We want to thank you for your support and understanding during a rapidly evolving situation as we make every effort to support our customers, staff, and community. We are fortunate that our garden will allow for ample space for guests to have a calming experience while still following CDC guidelines. We will be open during adjusted hours for our customers who are looking to us to bring plants and peace back to your homes and backyards. We will make adjustments as we see fit in order to continue following best practices for our staff and guests. Our hope is to continue supporting the local community in the safest way possible.
We have taken the following steps to ensure your safety and ours:
Opening every day at 10am, instead of 9am, to allow for extra time to clean/sanitize nursery wide.
Restrooms are closed to the public.
Signs have been placed around the garden as reminders of social distancing.
Wagons are cleaned in-between uses.
Staff will pull plant tags and pricing.
Credit Cards are encouraged.
Customers can load their cars or we are happy to load assist if help is needed.
Gift shop is open to 2 customers or groups at a time. We have a sign on the door that will let you know if the store is at capacity.
Thank you to our local 30A community, our surrounding communities, and our loyal customers for your continued support of our small business. Please feel to reach out to us with concerns or questions.
A group of businesses, including Clay Garden & Gifts, have joined together to raise awareness and funds for Campo Sagrado, a Nicaraguan farm which allows the ministry "12 Churches" to provide food to six feeding centers around the city of Leon. These businesses have pledged to match up to $15,000 of every dollar donated in the "Nourish Nicaragua" campaign.
Our hope is to raise enough money for three much-needed farm upgrades:
◦ A utility vehicle – (Right now, farmers strap plows to their shoulders!)
◦ A bodega – The fields are huge, and there is currently no shade for the workers to cool off. Furthermore, someone could sleep in the bodega to keep an eye out for theft at night.
◦ A green house – This would allow for off-season crop growth.
We are so thankful for your interest in Nourish Nicaragua, a campaign to benefit Campo Sagrado farm of Twelve Churches ministry! Click below to learn more and to donate.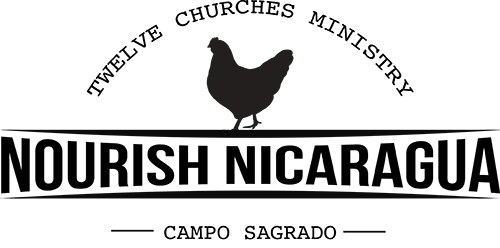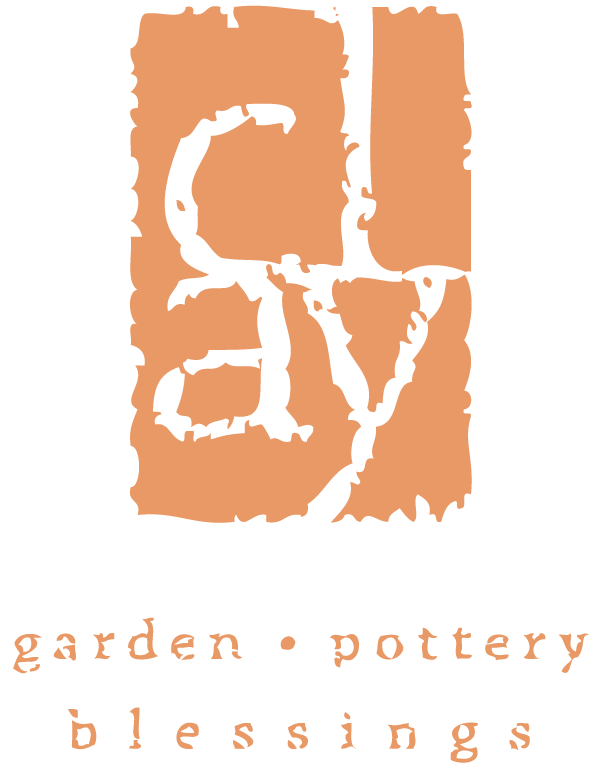 In January, 2012, out of the sand and earth, Clay was born. Conveniently located on Scenic 30A in Seagrove Beach, Clay Gardens, Gifts & Blessings welcomes you to a bold splash of color, variety, fun and surprise. You will love our beautiful, annuals, perennials, shrubs, grasses, citrus trees and herbs. Our pavilion houses teak furnishings, local outdoor art, working fountain displays and driftwood from local rivers and bays. Browse the gift shop with decorative dried or preserved wreaths, scented candles, local one of a kind jewelry pieces, terrarium and lanterns, gardening tools, watering cans, bulbs, books, holiday specialties and much more.
Clay's staff stands ready to give assistance to the first time gardener or the master gardener. They can give advice to someone needing a new landscape, or they can simply help you find the perfect gift for most any occasion. We know all the Dirt.
At Clay Gardens, we strive to bring the best quality grown plants, shrubs, grasses, herbs and trees that we can find. We also seek out the unique and unusual. We try to find the newest species and colors in the plants that thrive in our community. Our hanging baskets are filled with bold splashes of cascading color and fragrance. The garden is the showpiece…..
Our gardens include the following departments and services: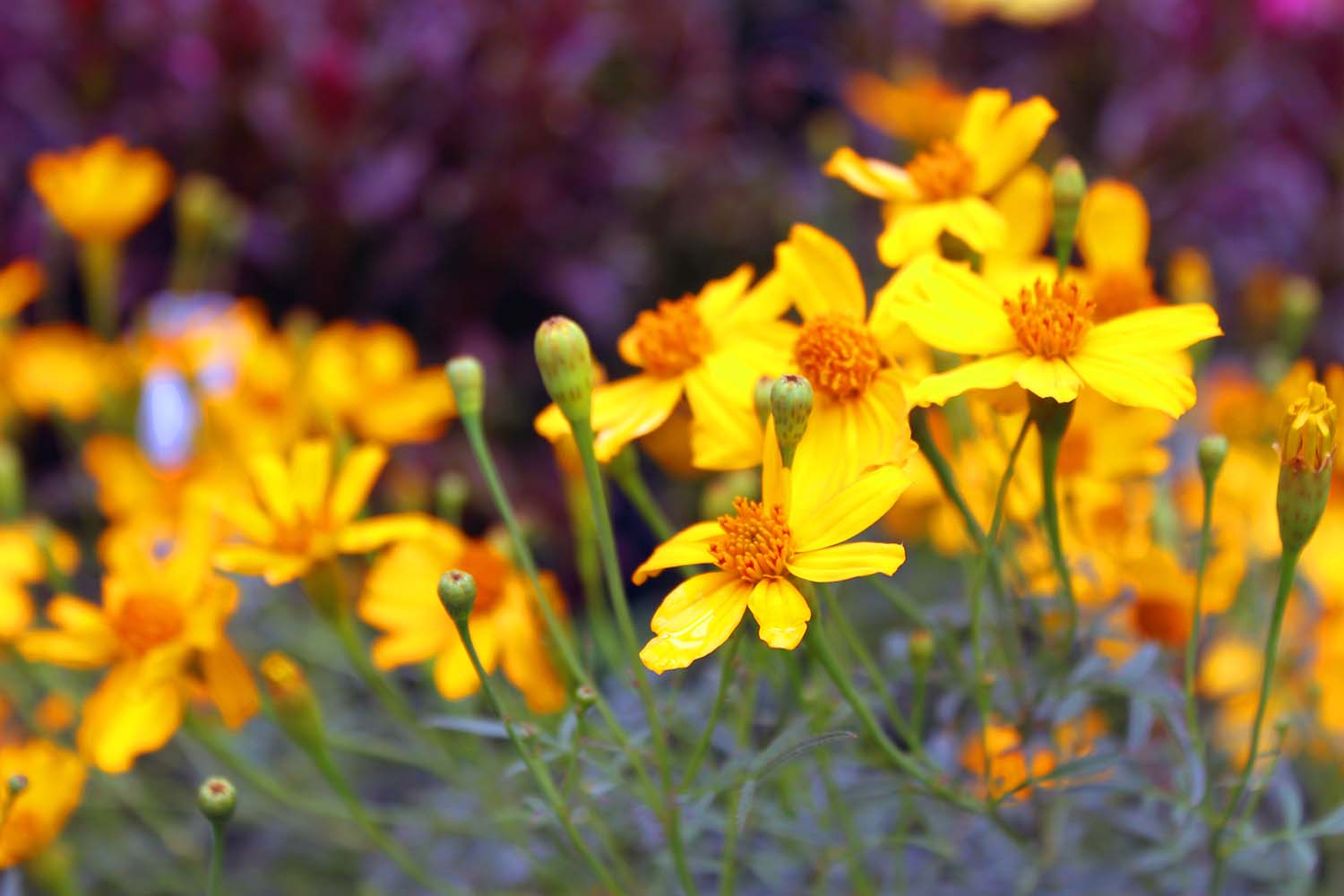 ANNUALS
Herbs
Annuals
Vegetables
Hanging Containers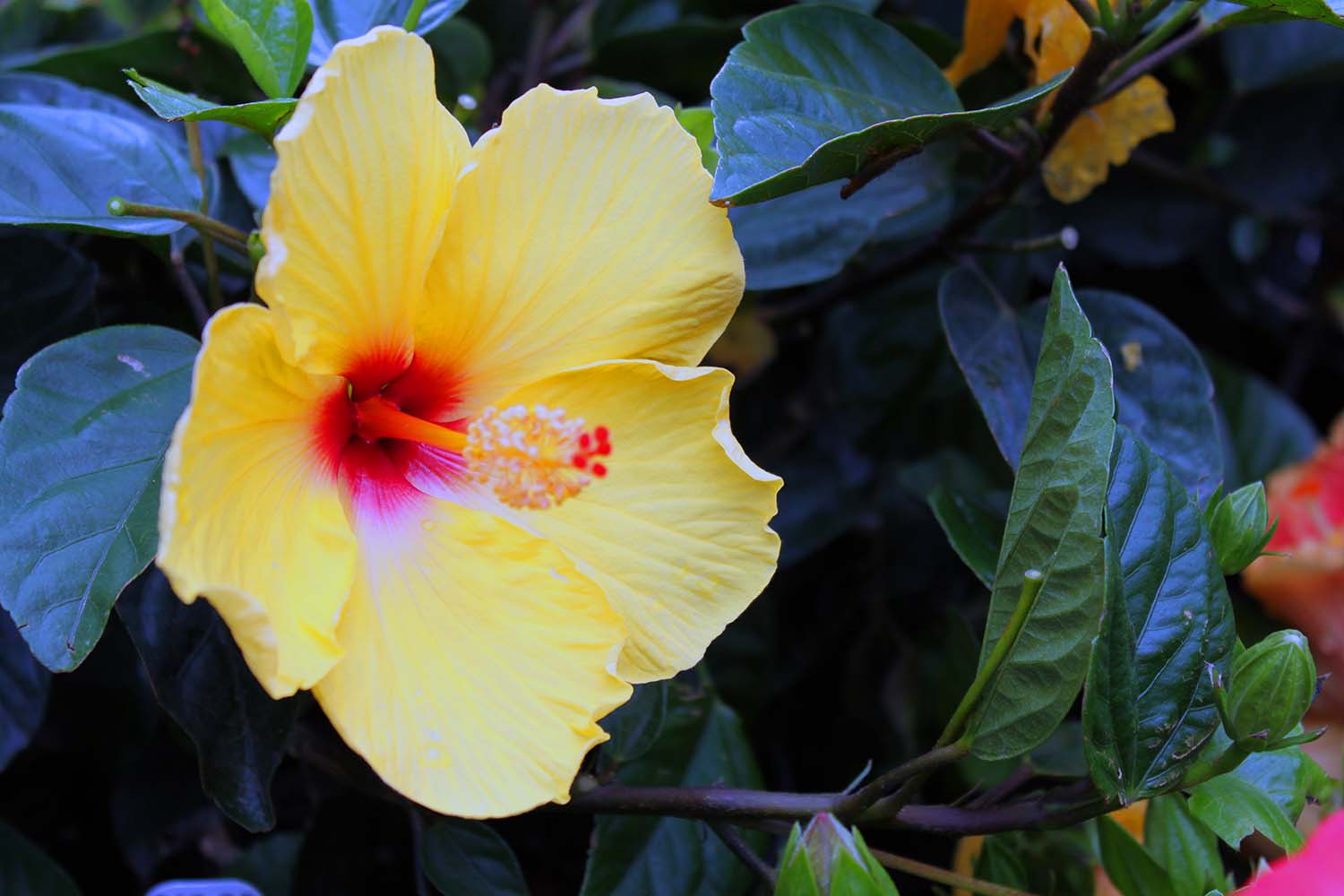 SHRUBS, VINES & GRASSES
Native species
Assortment of colors & sizes
Traditional favorites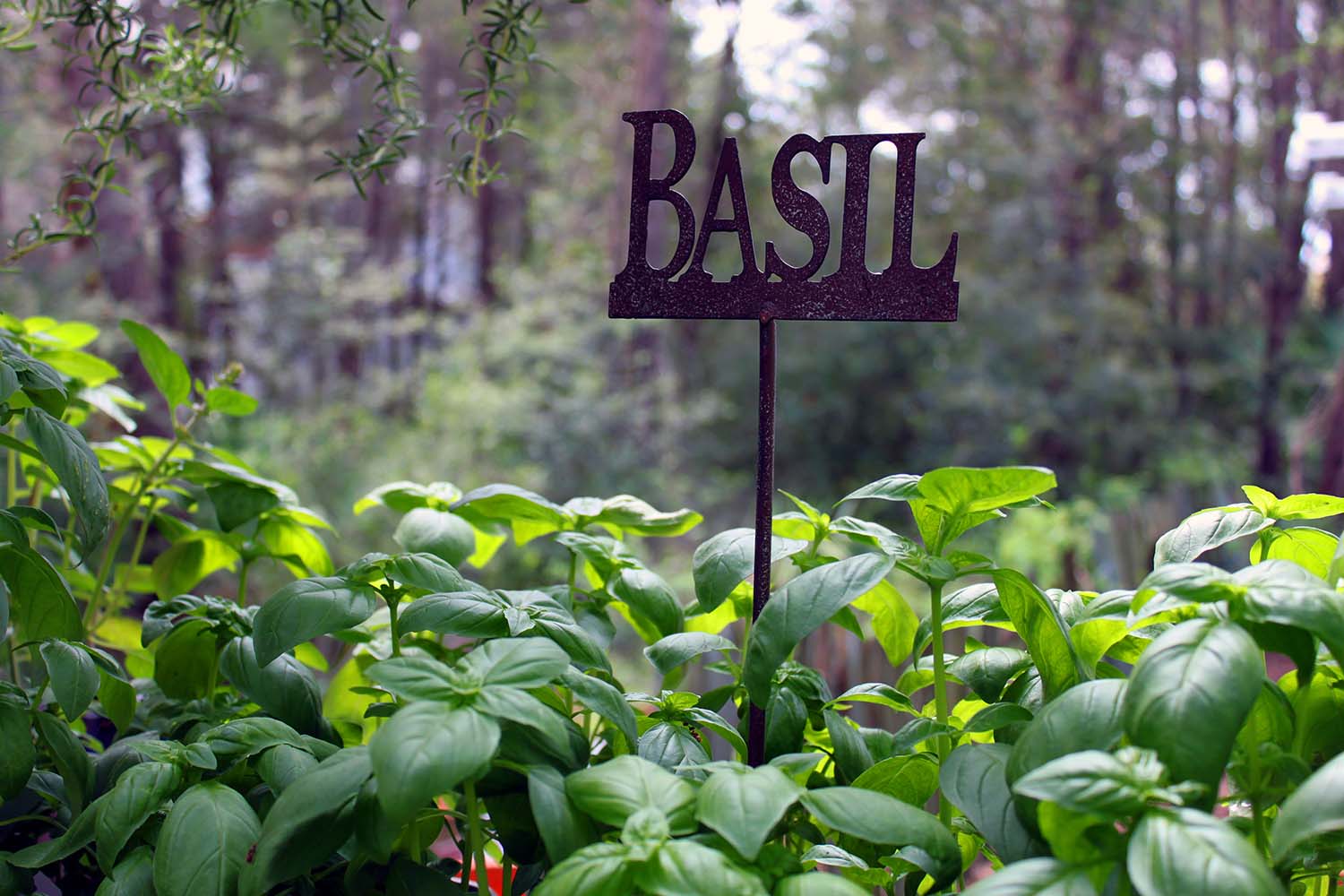 HERBS
Best herb selection in the area
Large variety of mints & thymes
Cooking herbs
Several rosemary species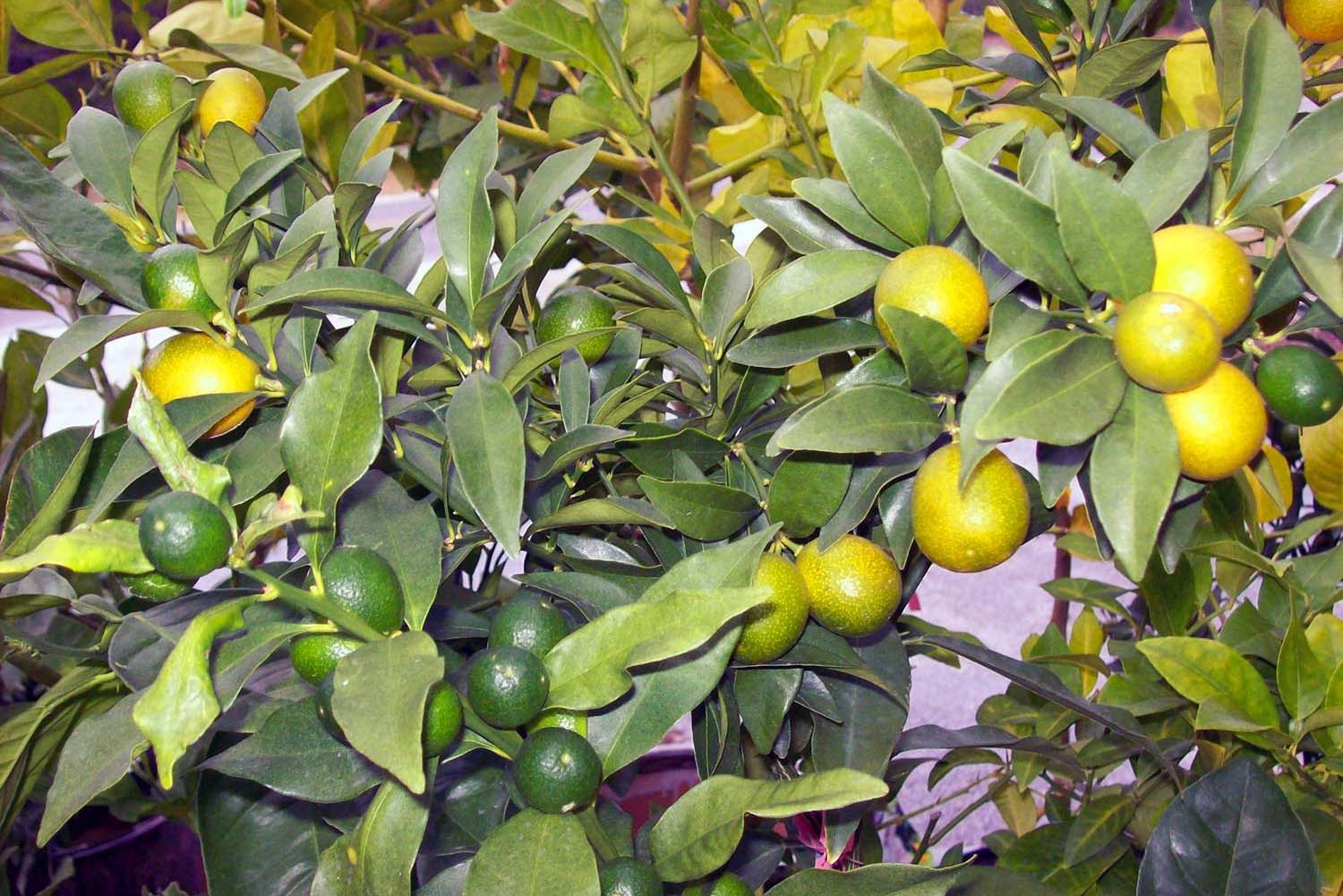 TREES
Assorted citrus and fruit trees
Several varieties of species
Special orders available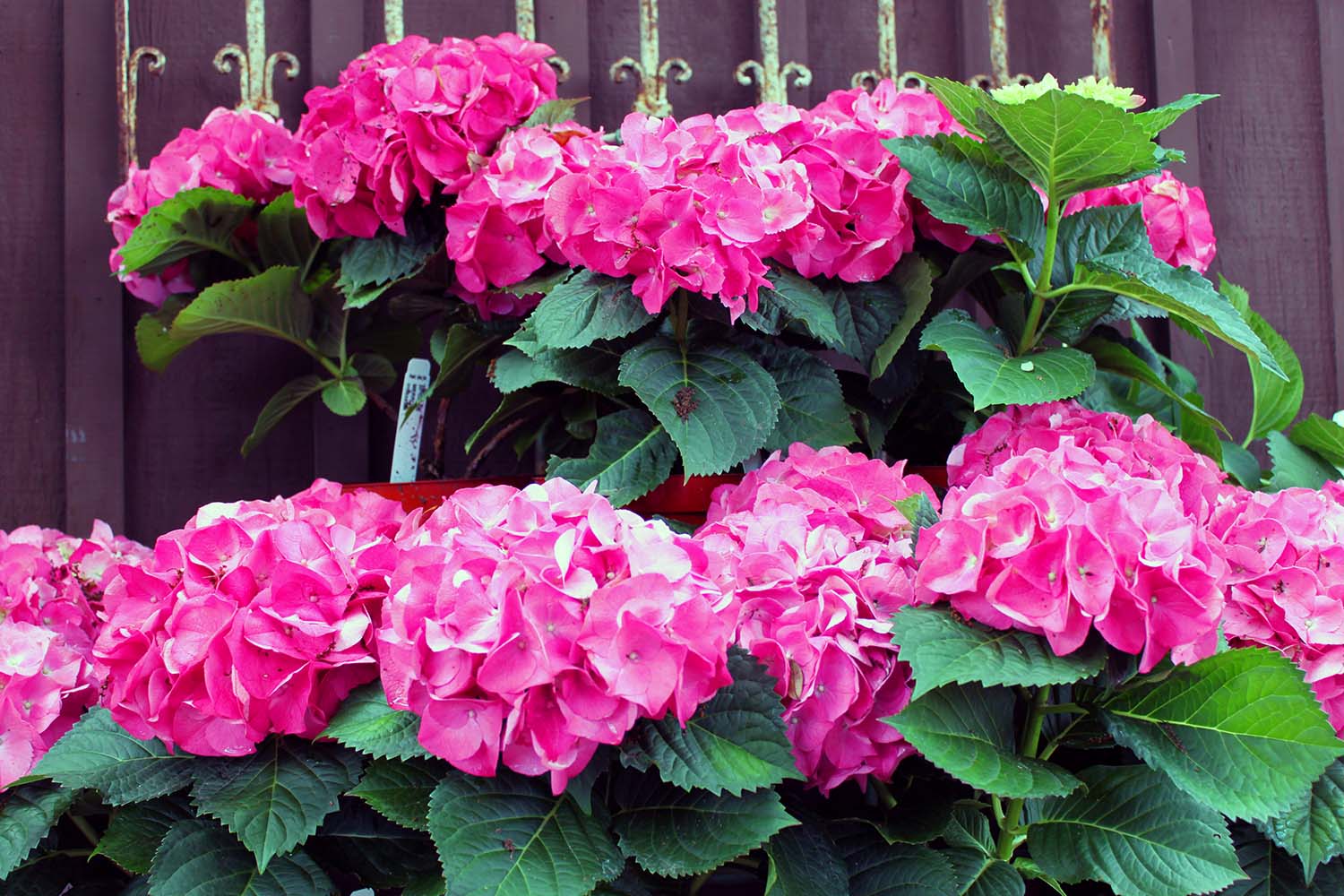 PERENNIALS
Many native varieties
Salt and sand tolerant species
Butterfly & hummingbird attracting plants
Roses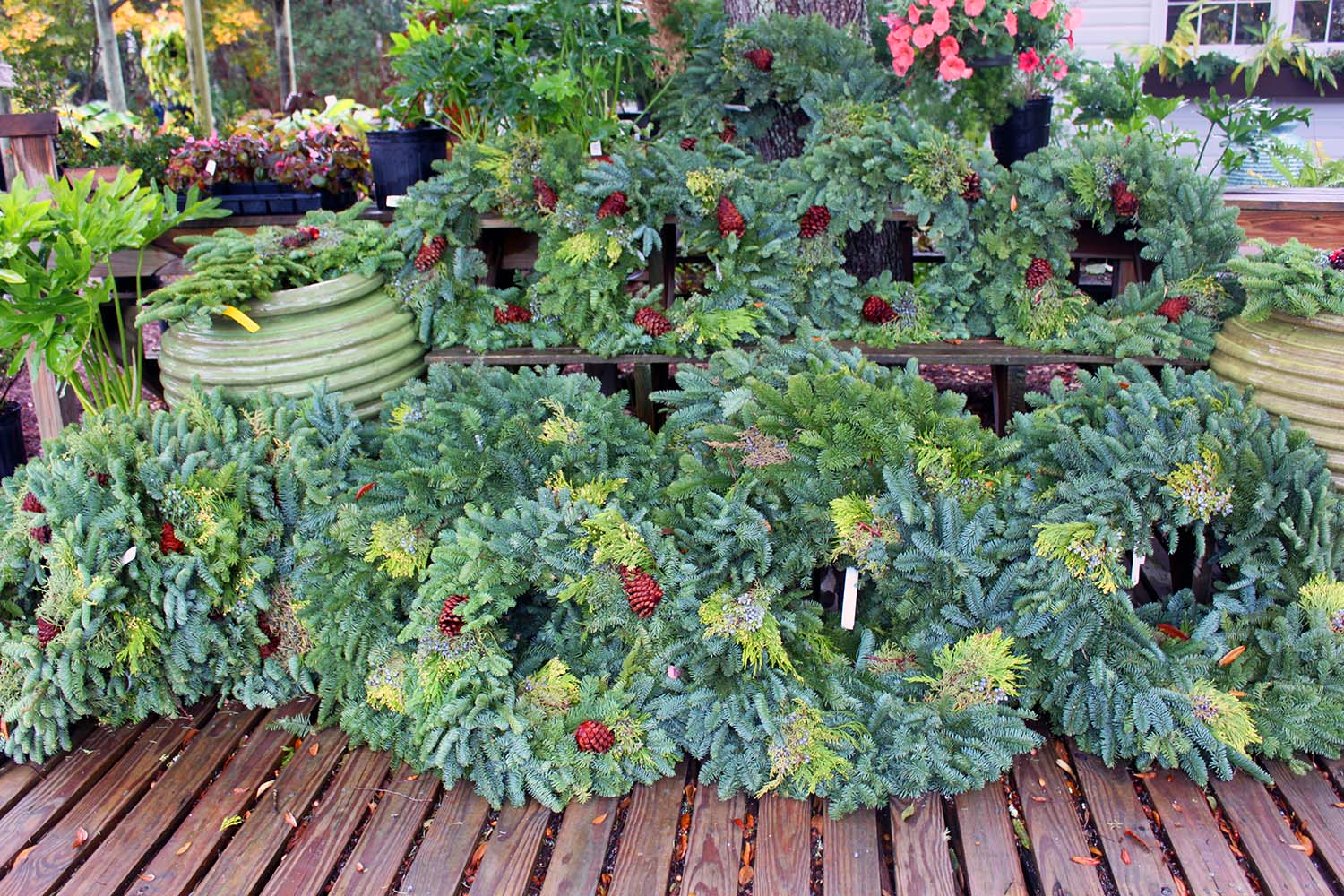 SEASONAL
Wreaths & garlands
Bulbs
Wall plaques and statues
Topsoil & mushroom compost
Pine straw
Decorative stone
Terracotta pumpkins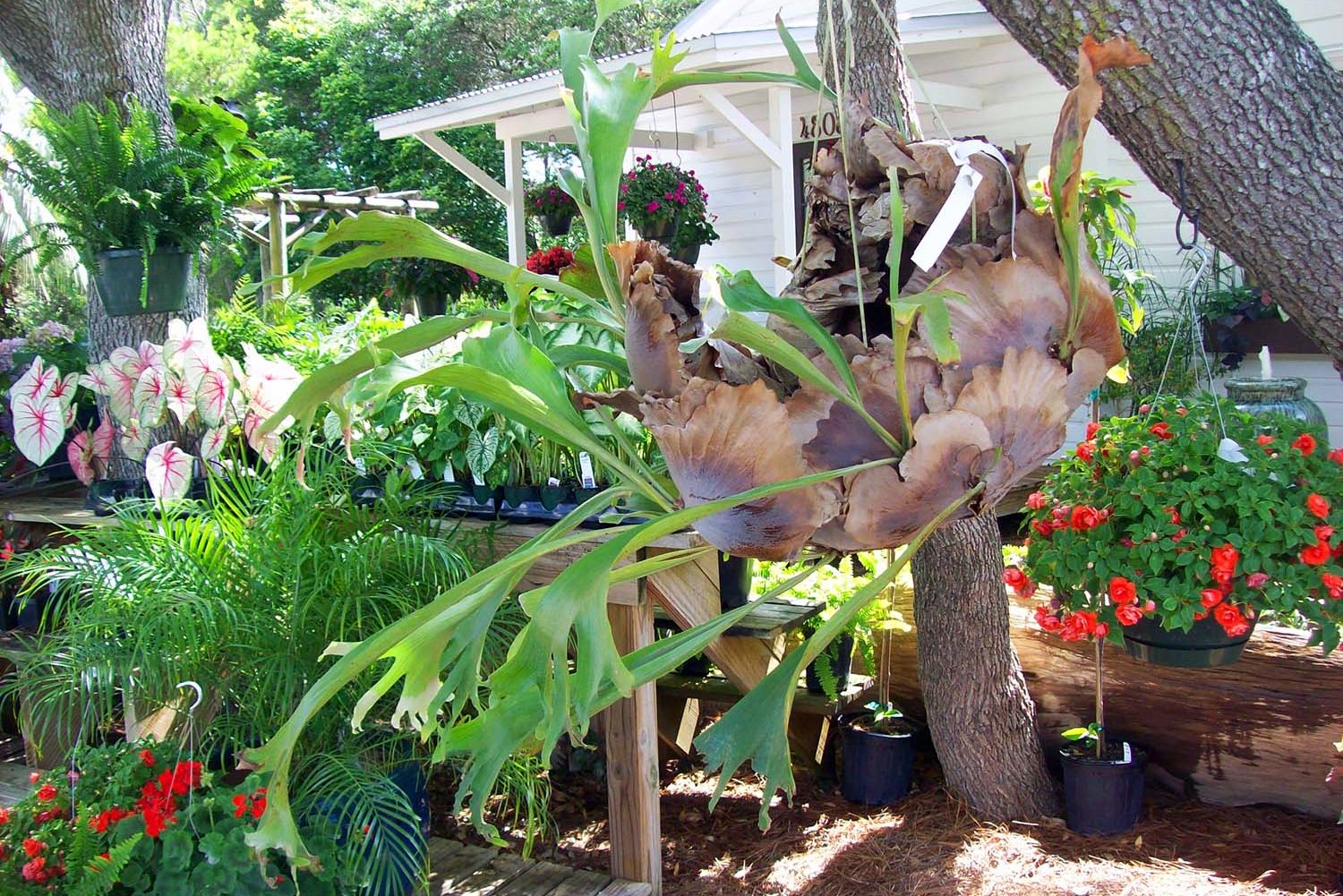 SHADE PLANTS
Large variety of indoor & outdoor ferns
Shade blooming annuals & perennials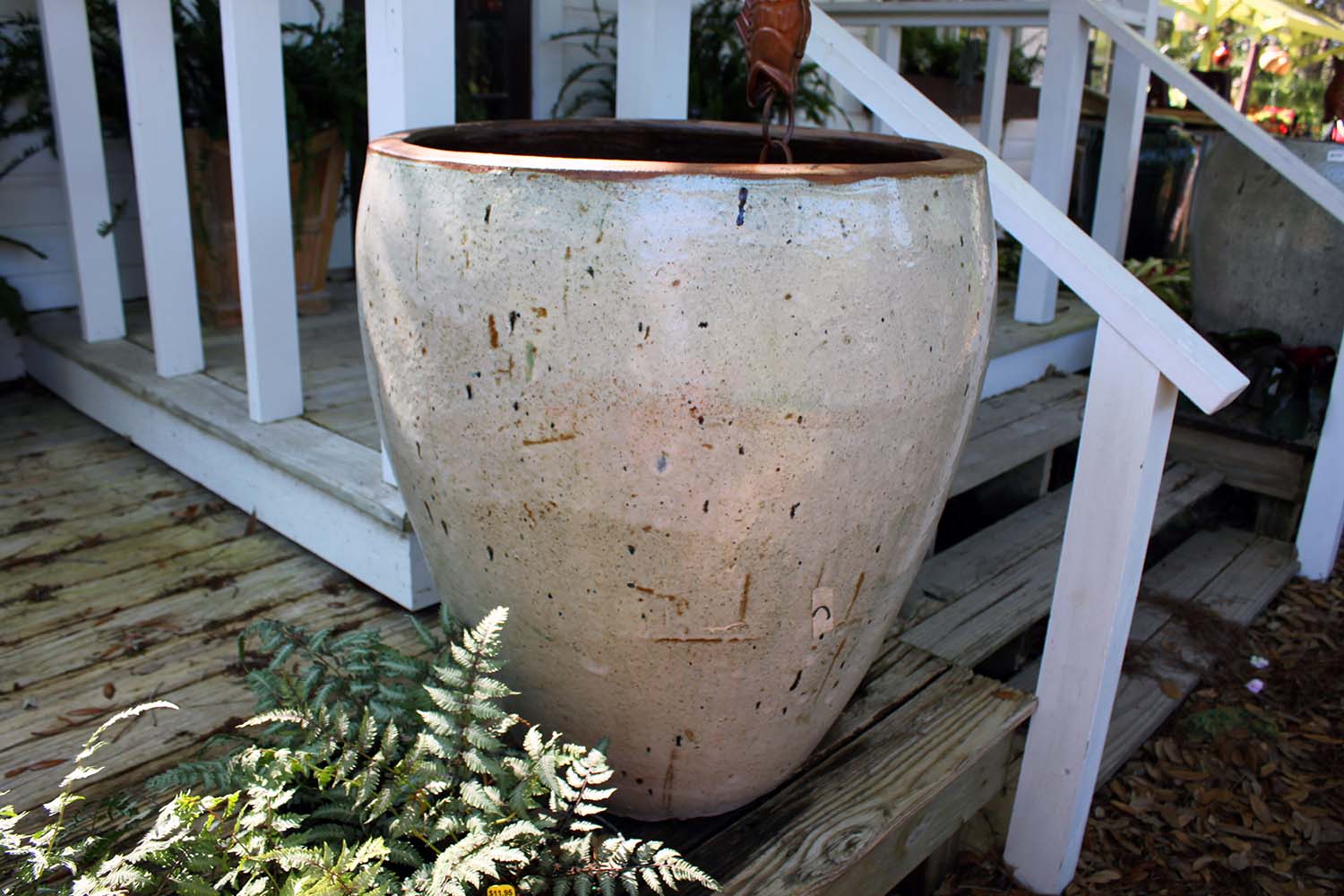 CONTAINER POTS
High quality glazed and terracotta pots
All shapes, sizes and colors
Fountains (any pot can become a fountain)
Container pot custom planting service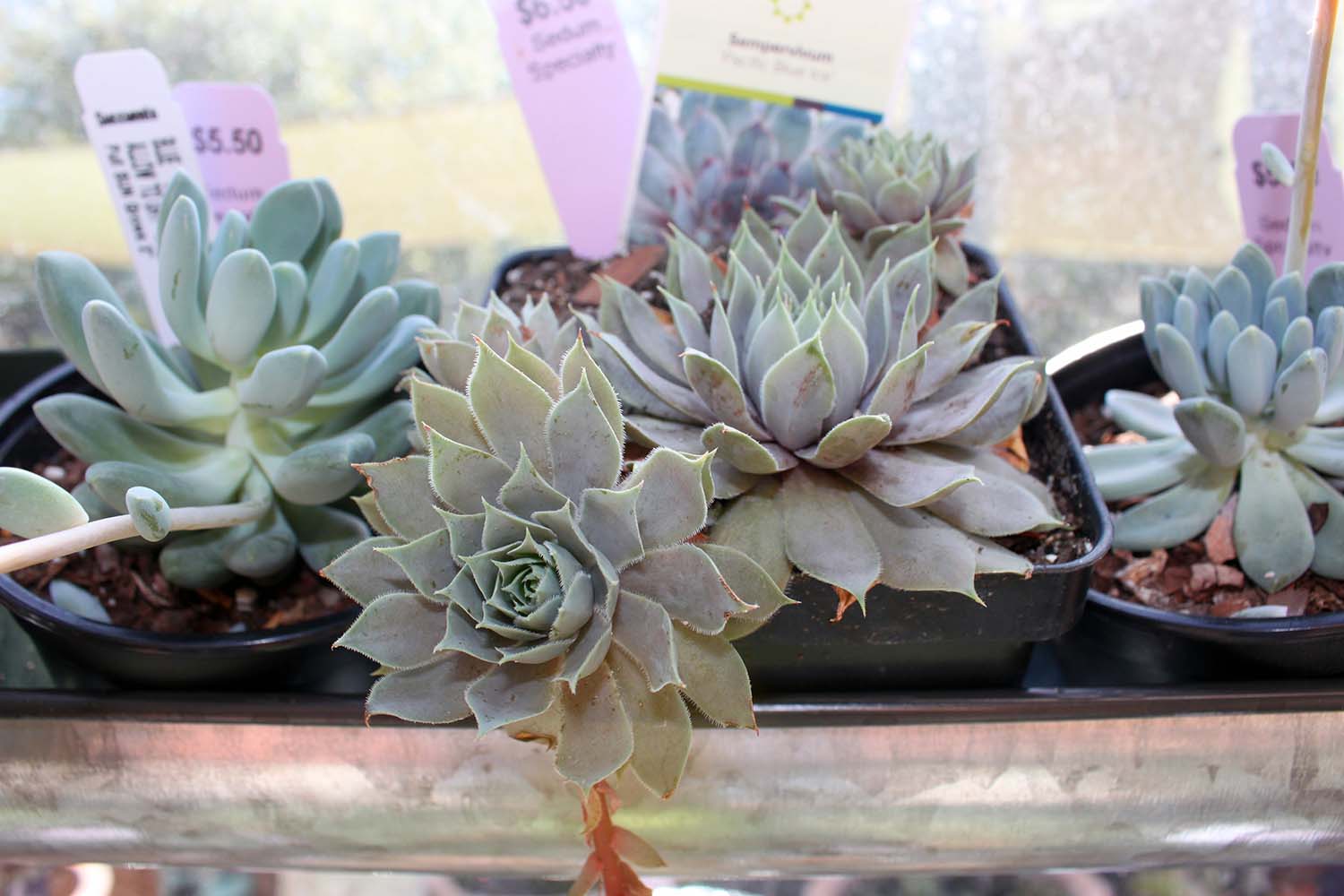 SUCCULENTS & SEDUMS
Many hard to find species
Variety of colors and sizes
We have sought out the finest quality, styles and colors in all different sizes from all over the world. We feature terra cotta and glazed pottery that will stand up to the elements year after year. Most of our pots can be turned into fountains. We carry basins, pumps and rocks for easy transformation. We are happy to help with the installation and delivery.
In addition to pots, we feature beautiful handmade ceramic birdbaths, birdhouses and feeders with the quality and artistic uniqueness that makes each piece special.
Come and see what you can envision for your porch, patio, pool or home with the right pottery from Clay!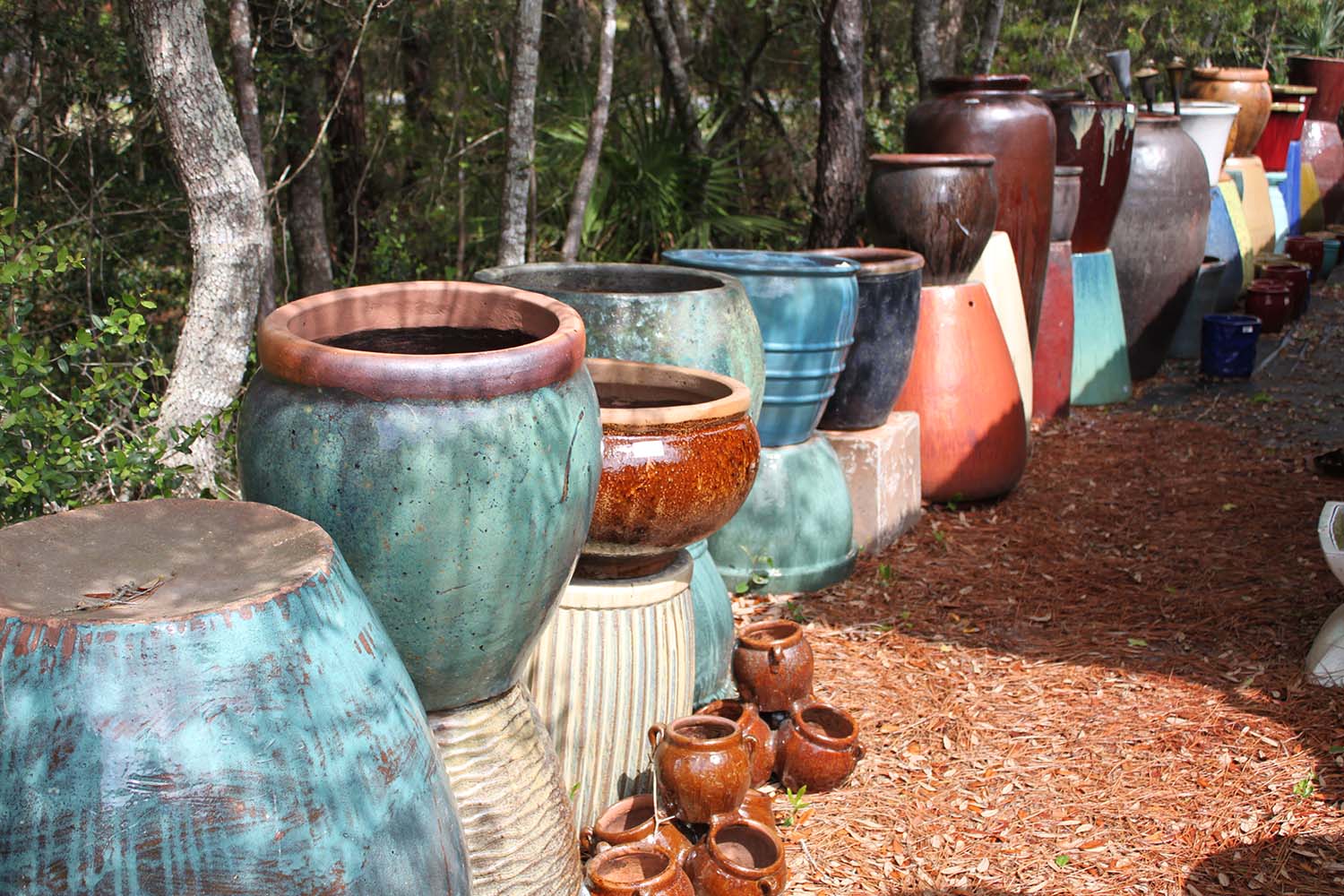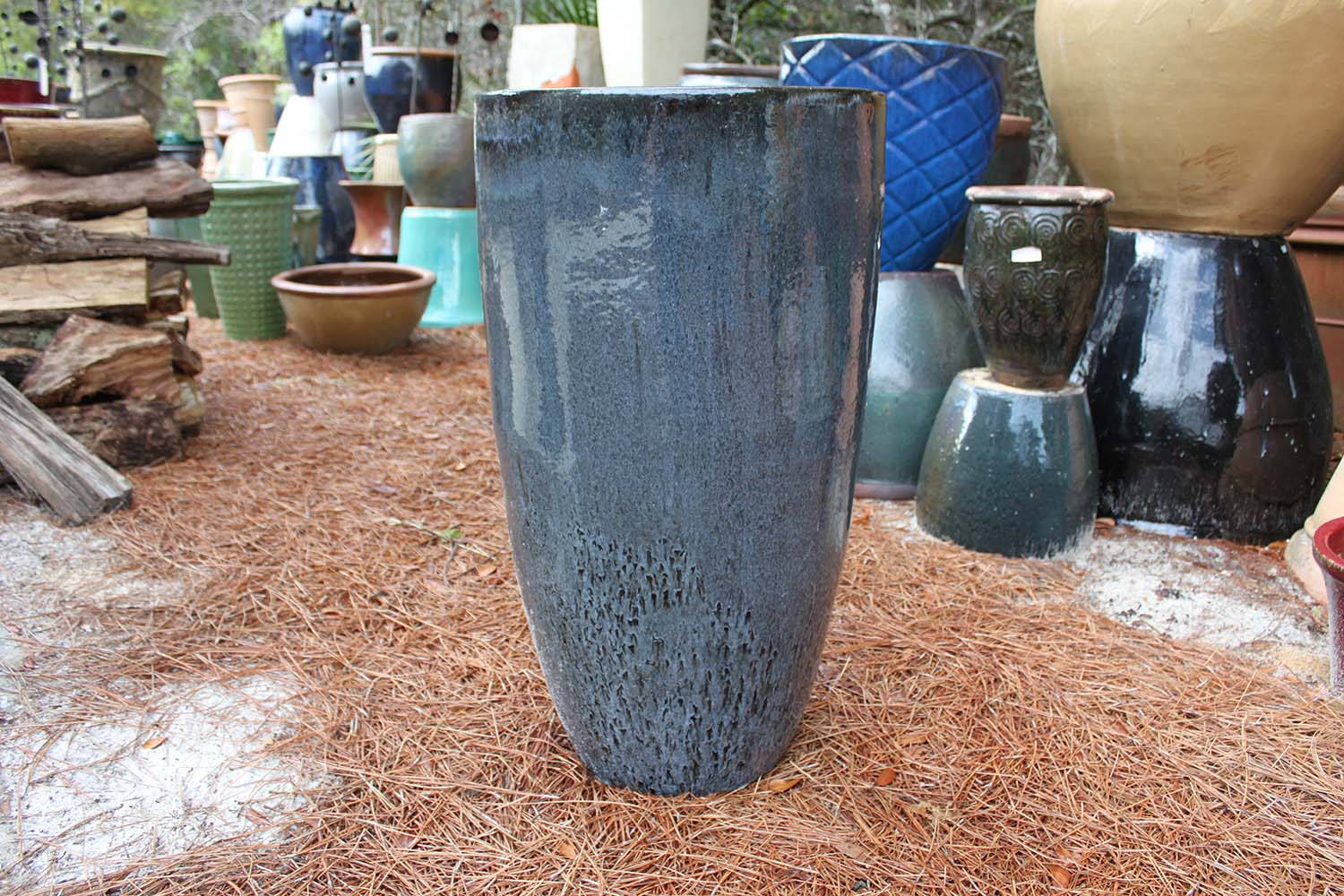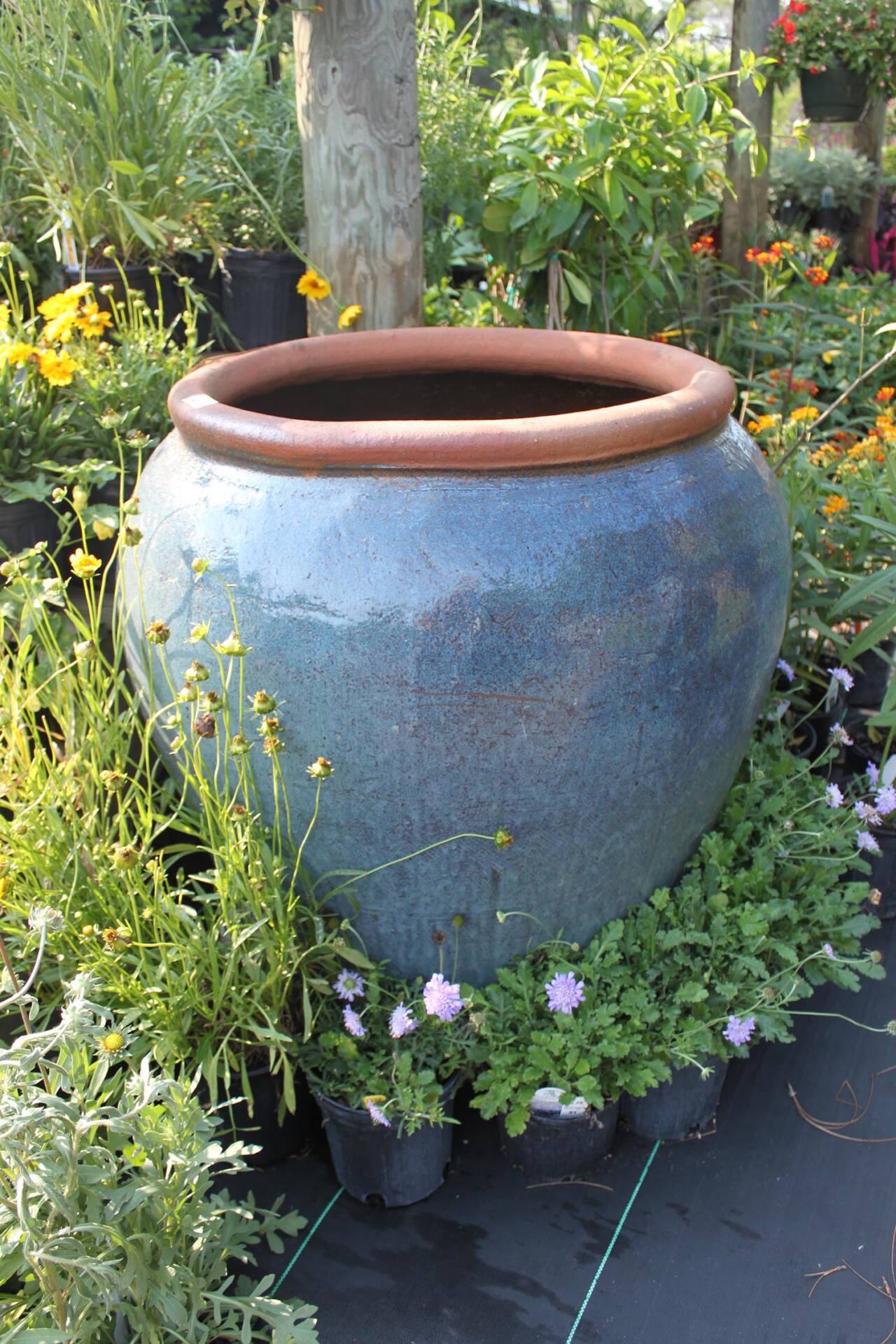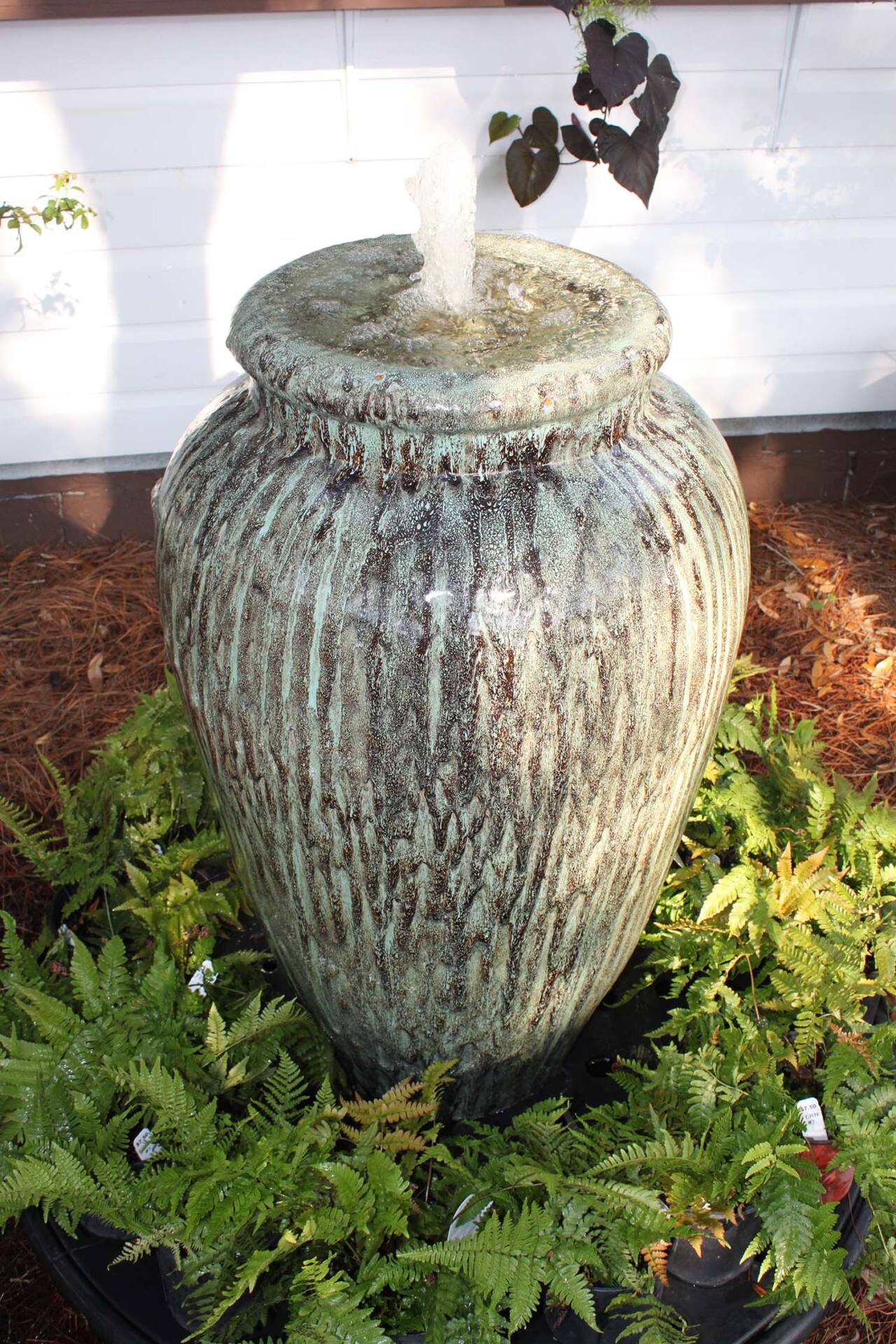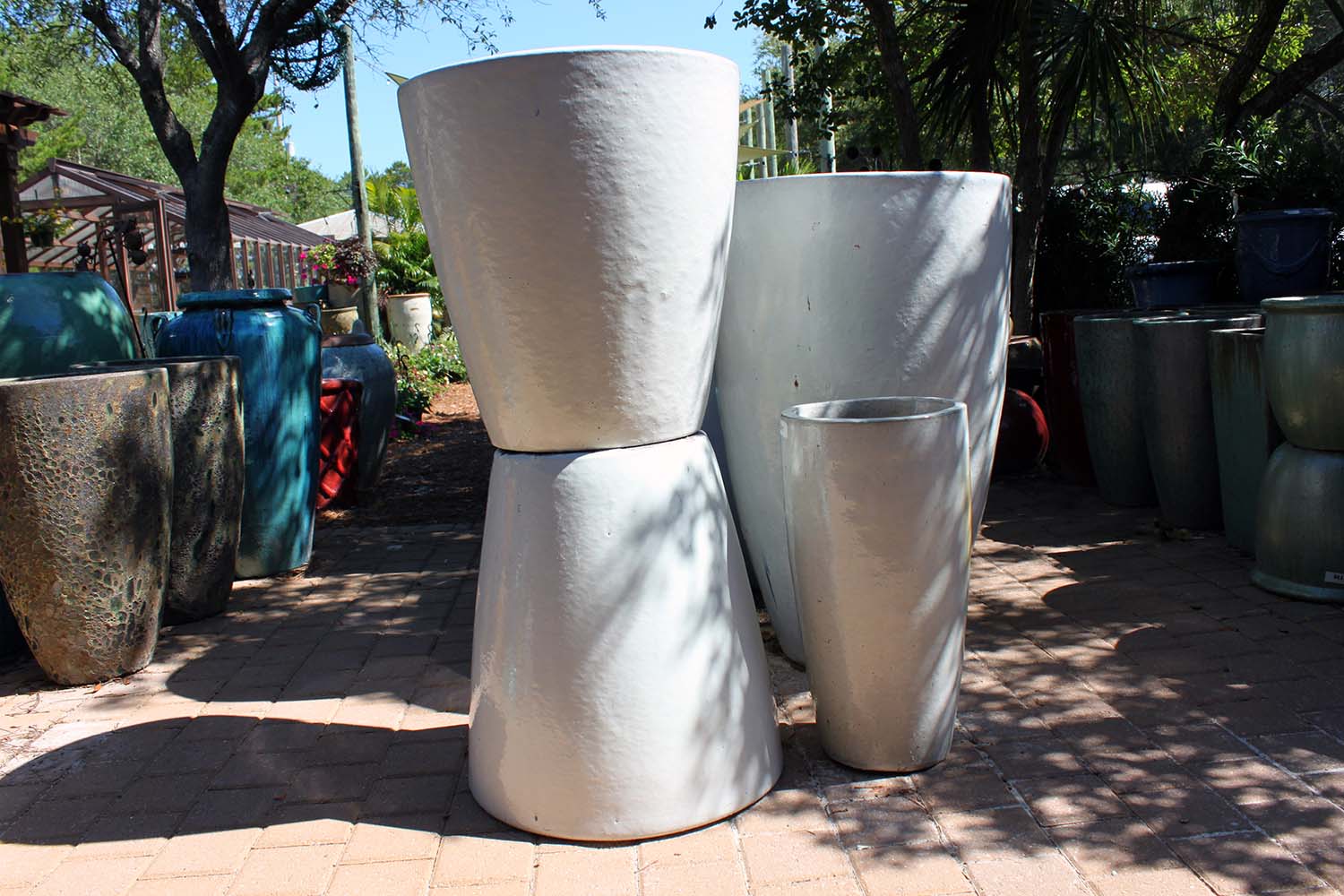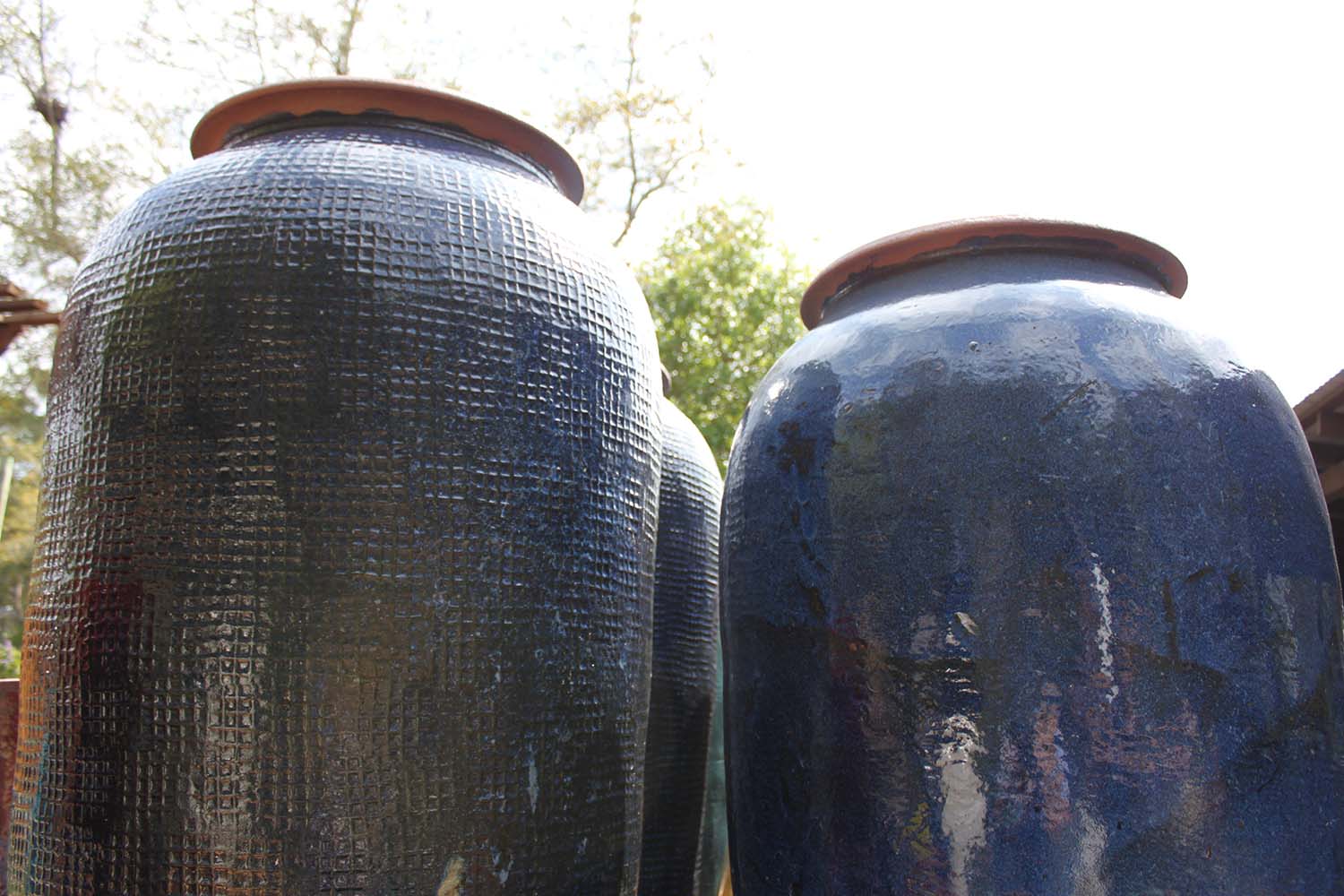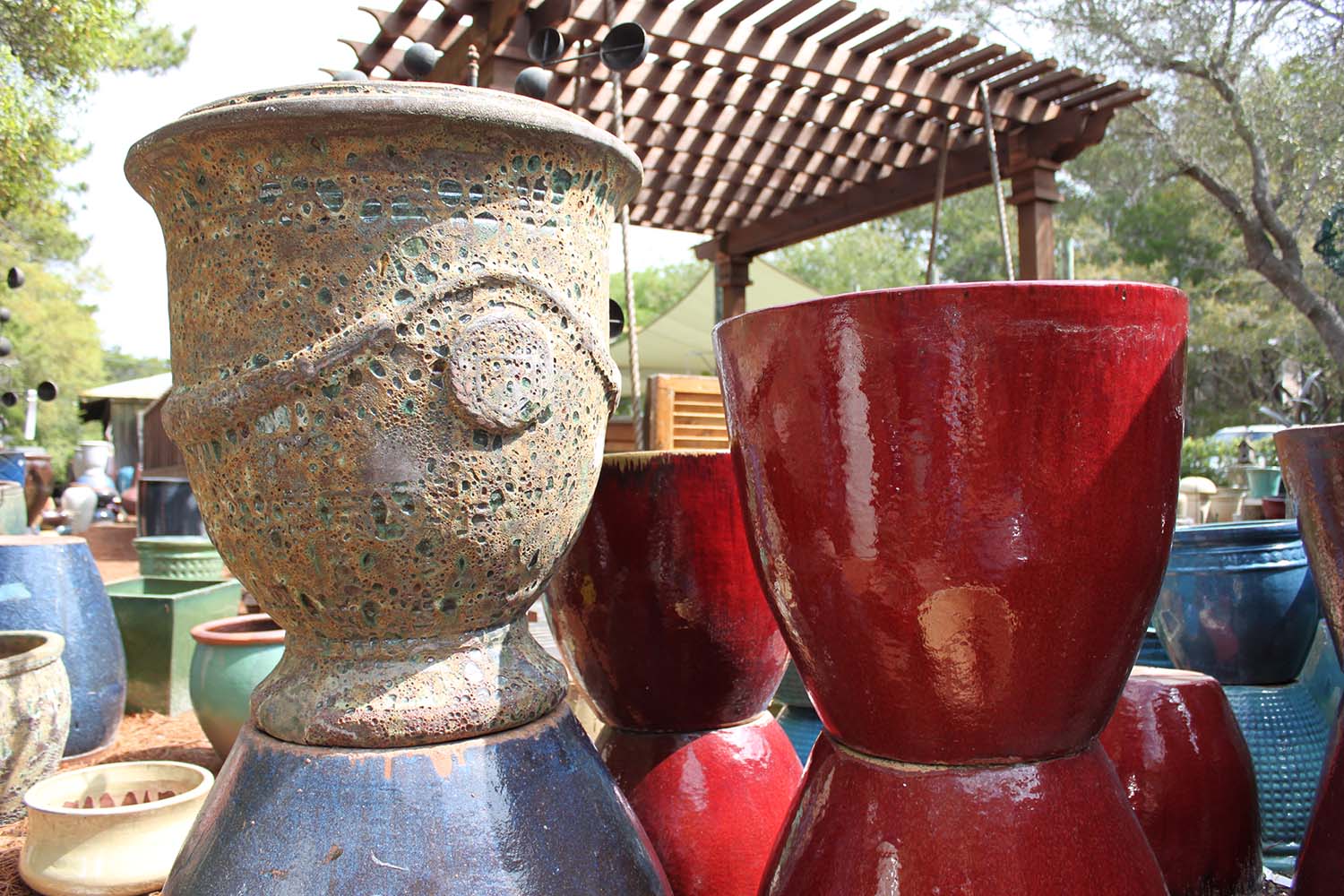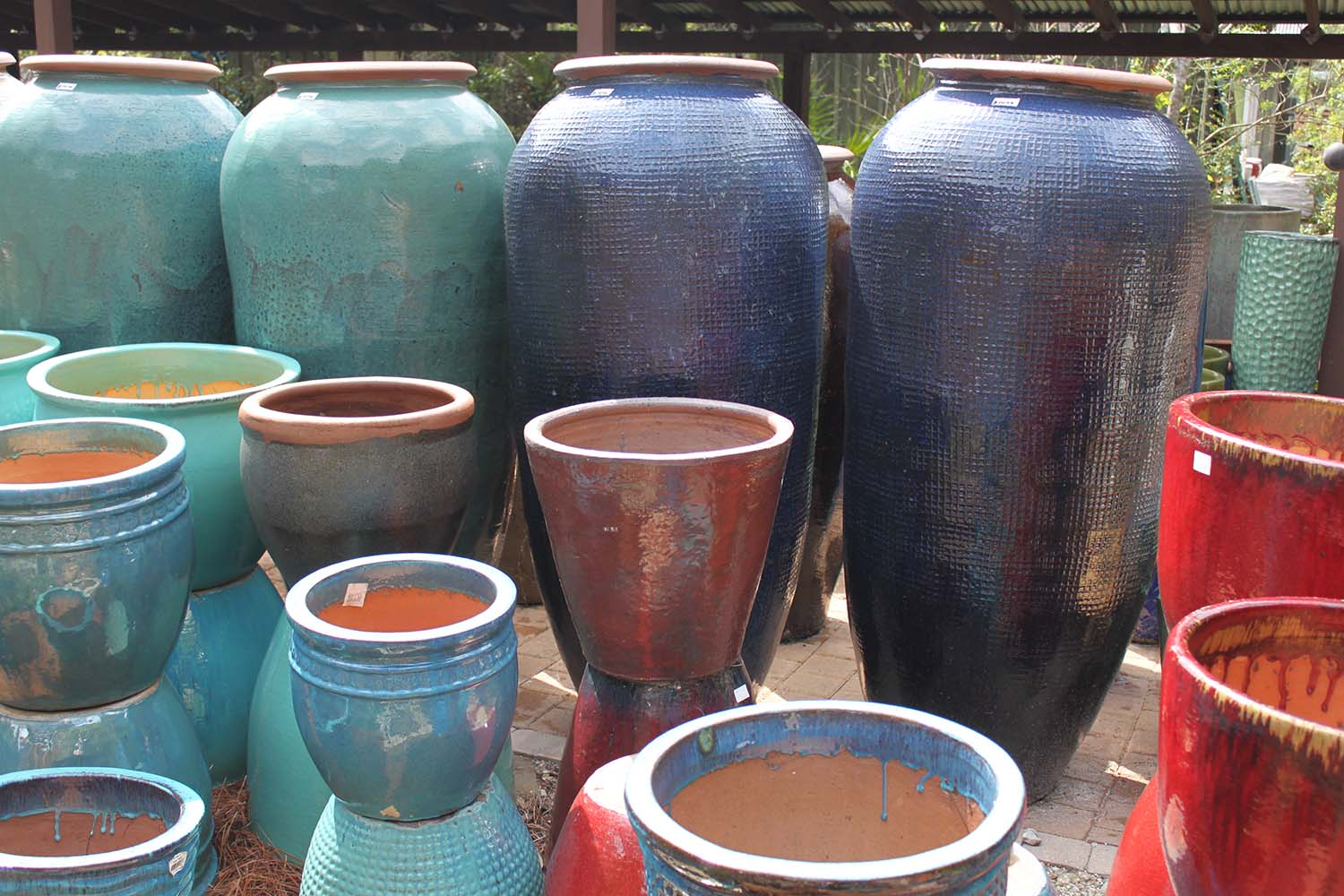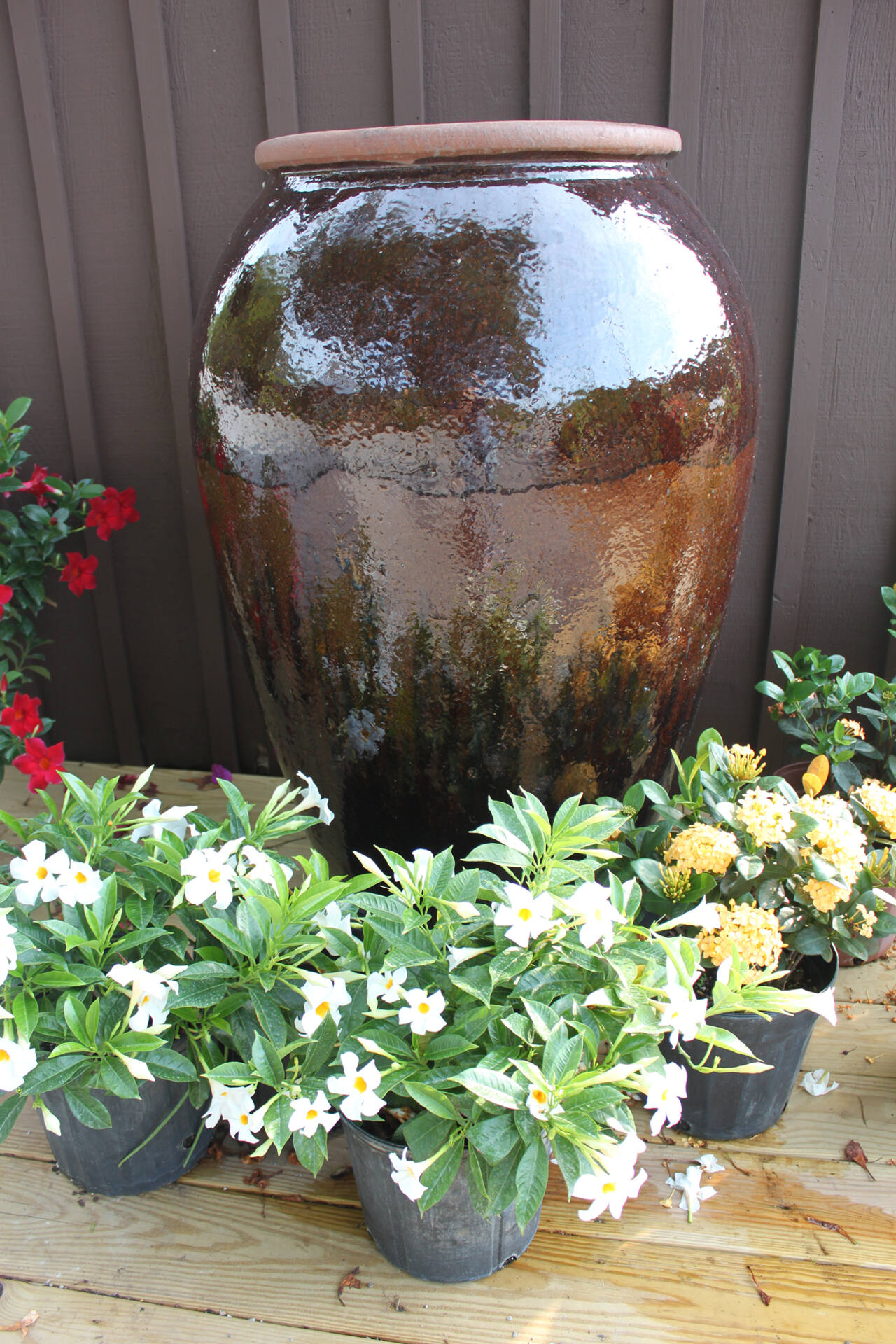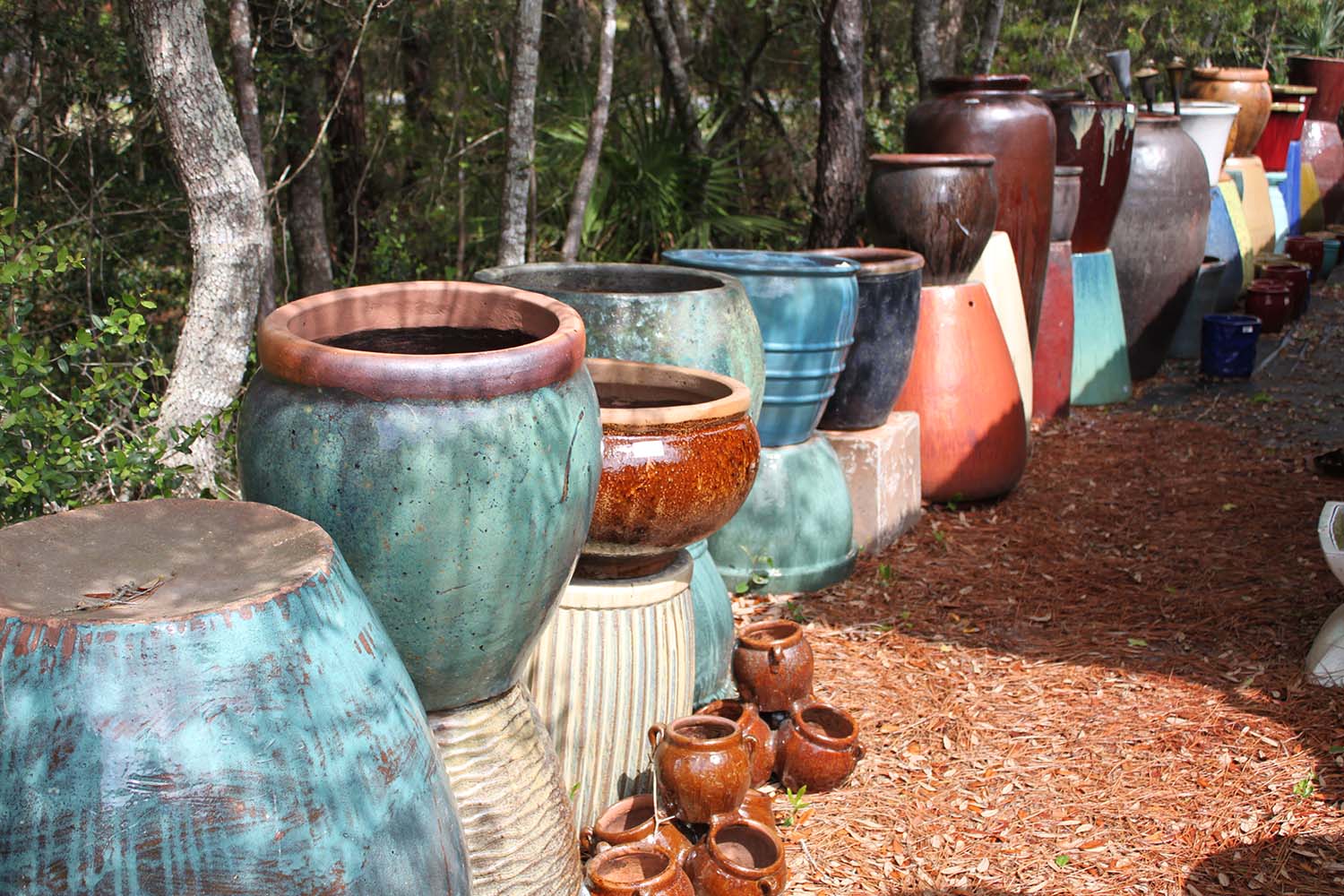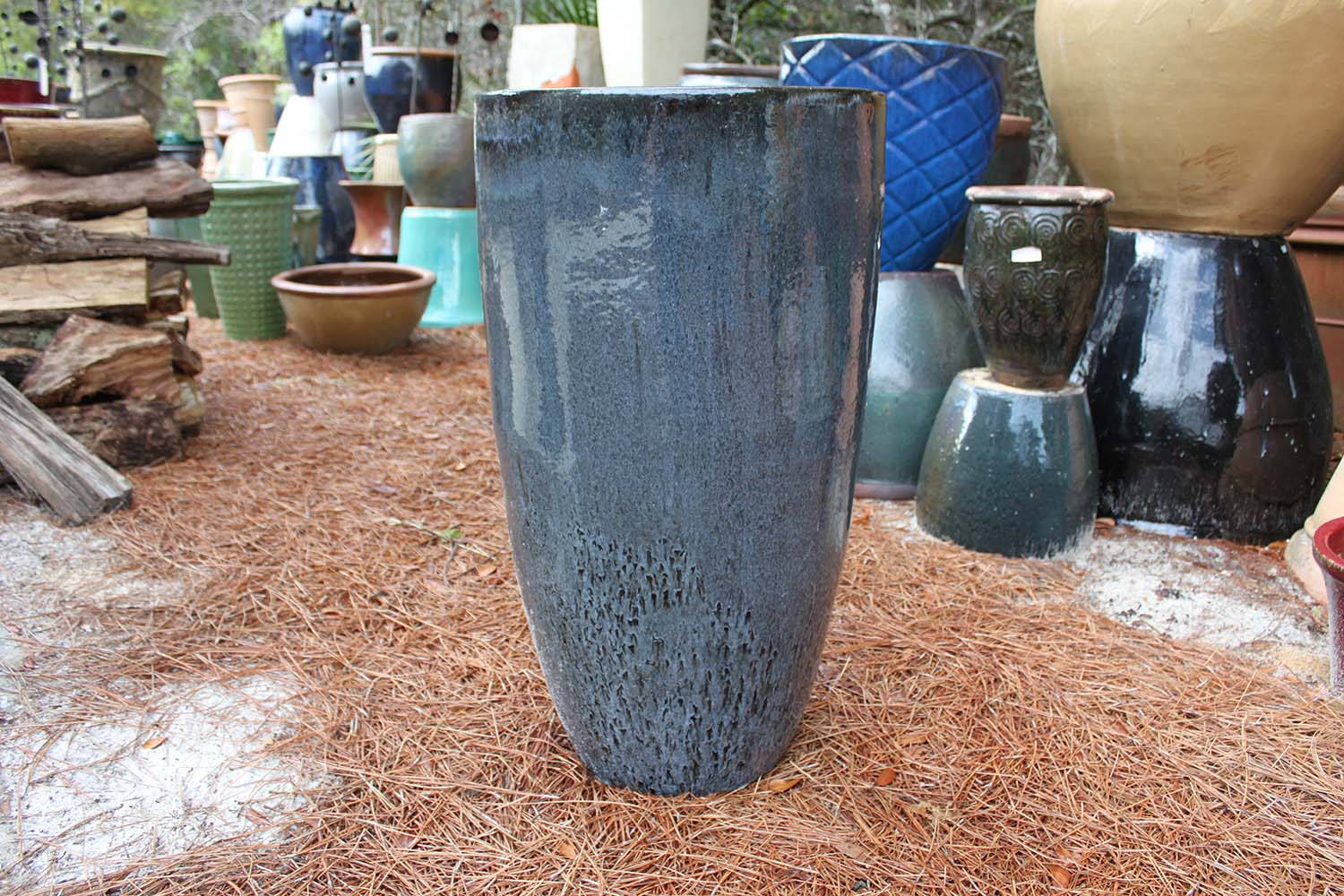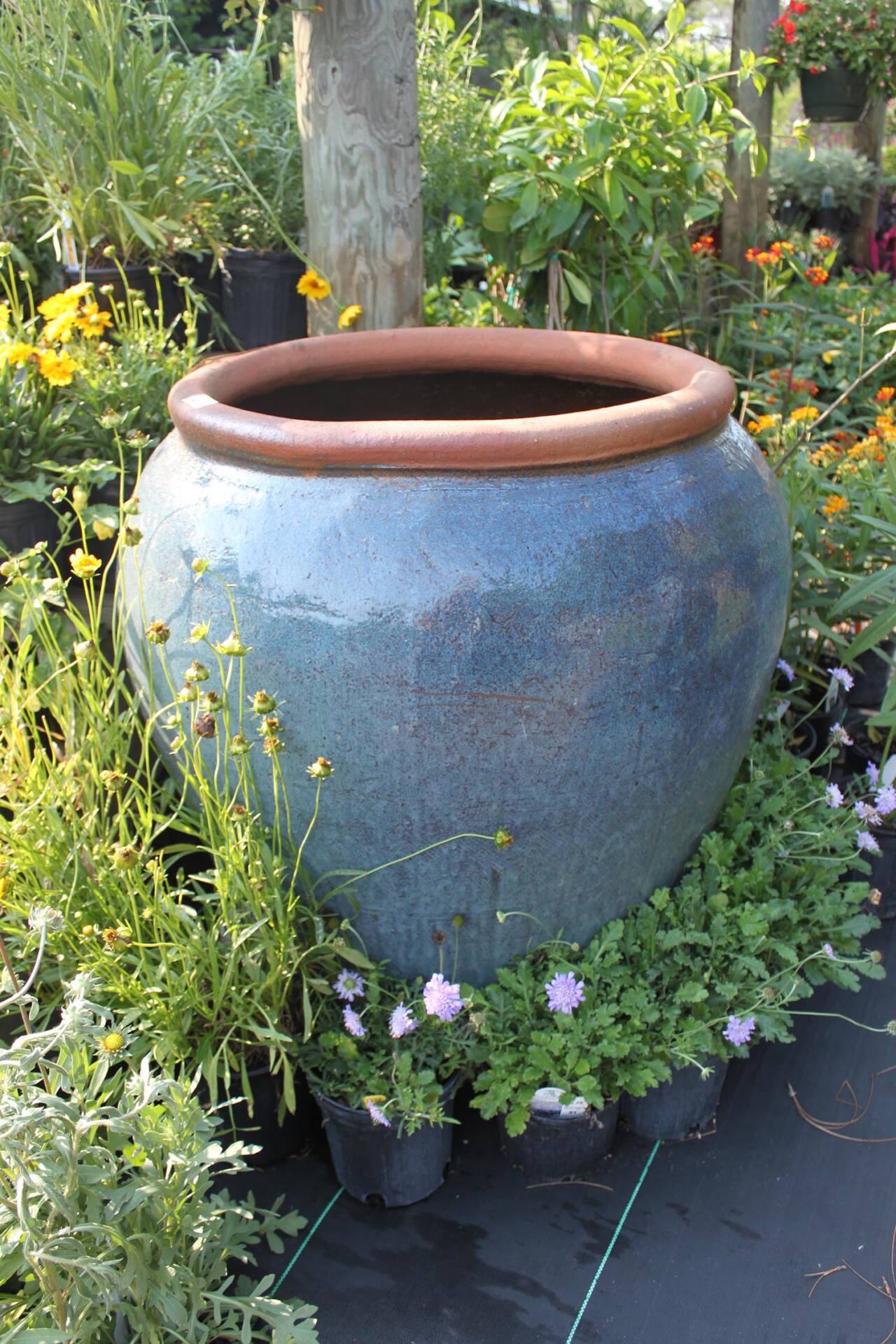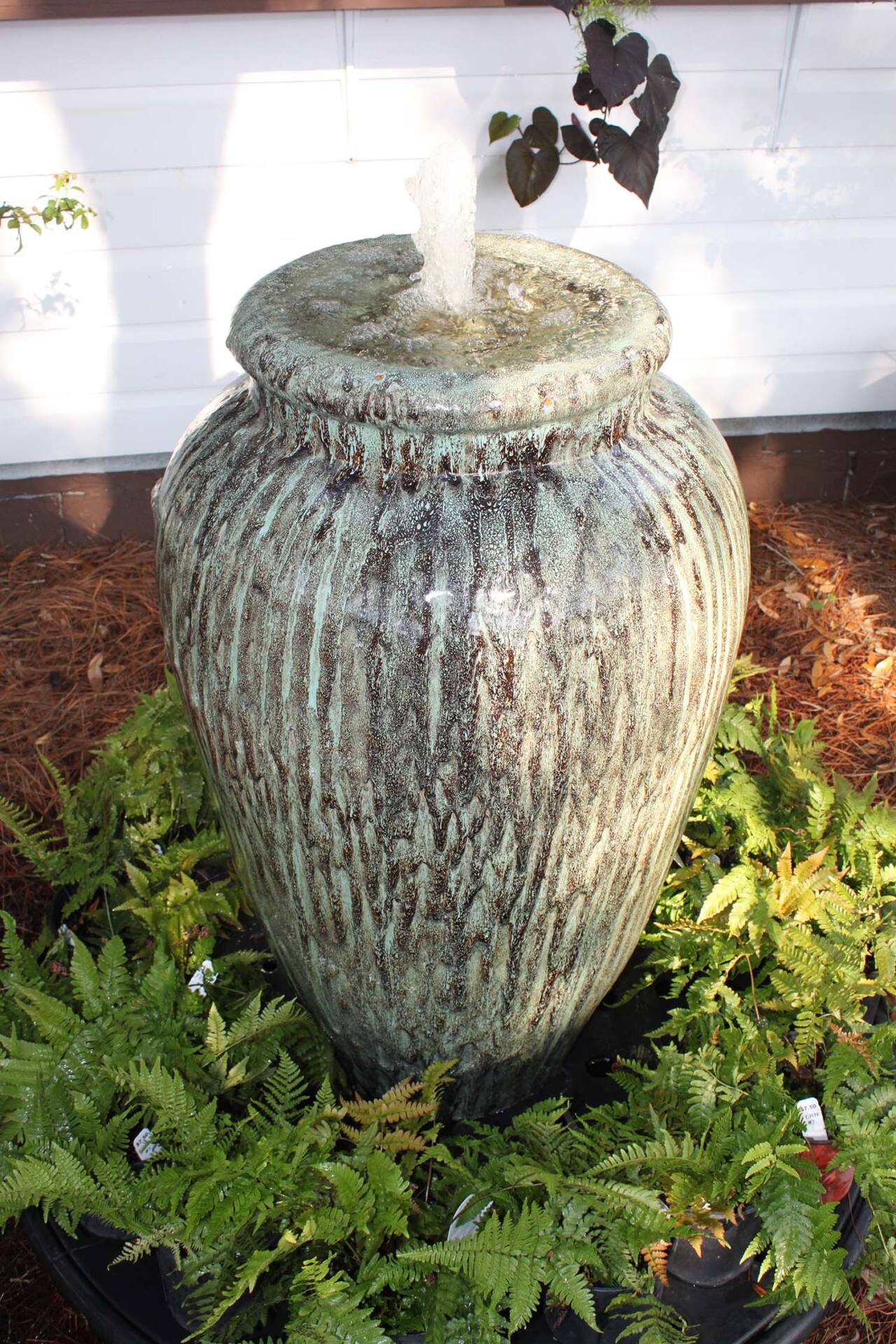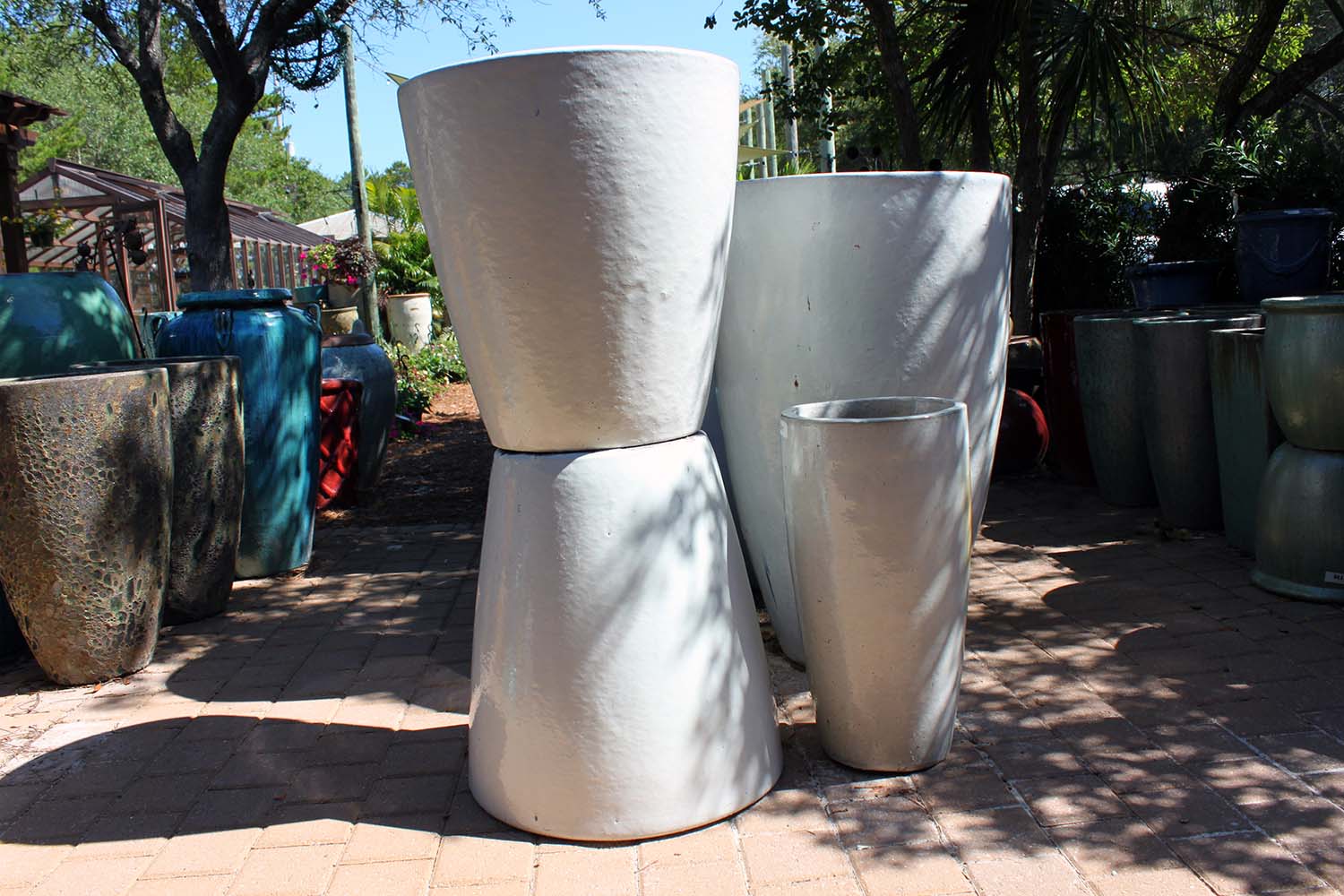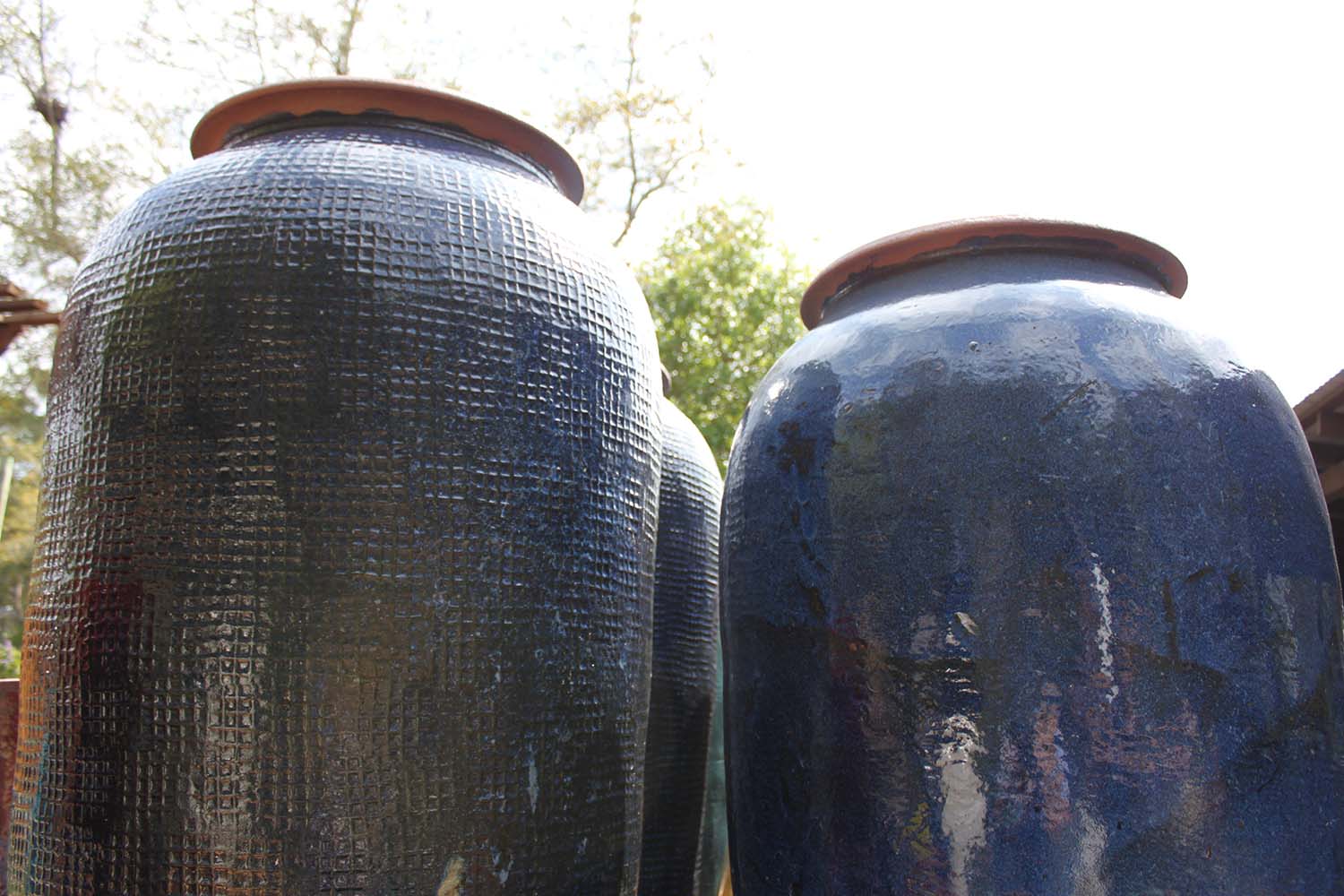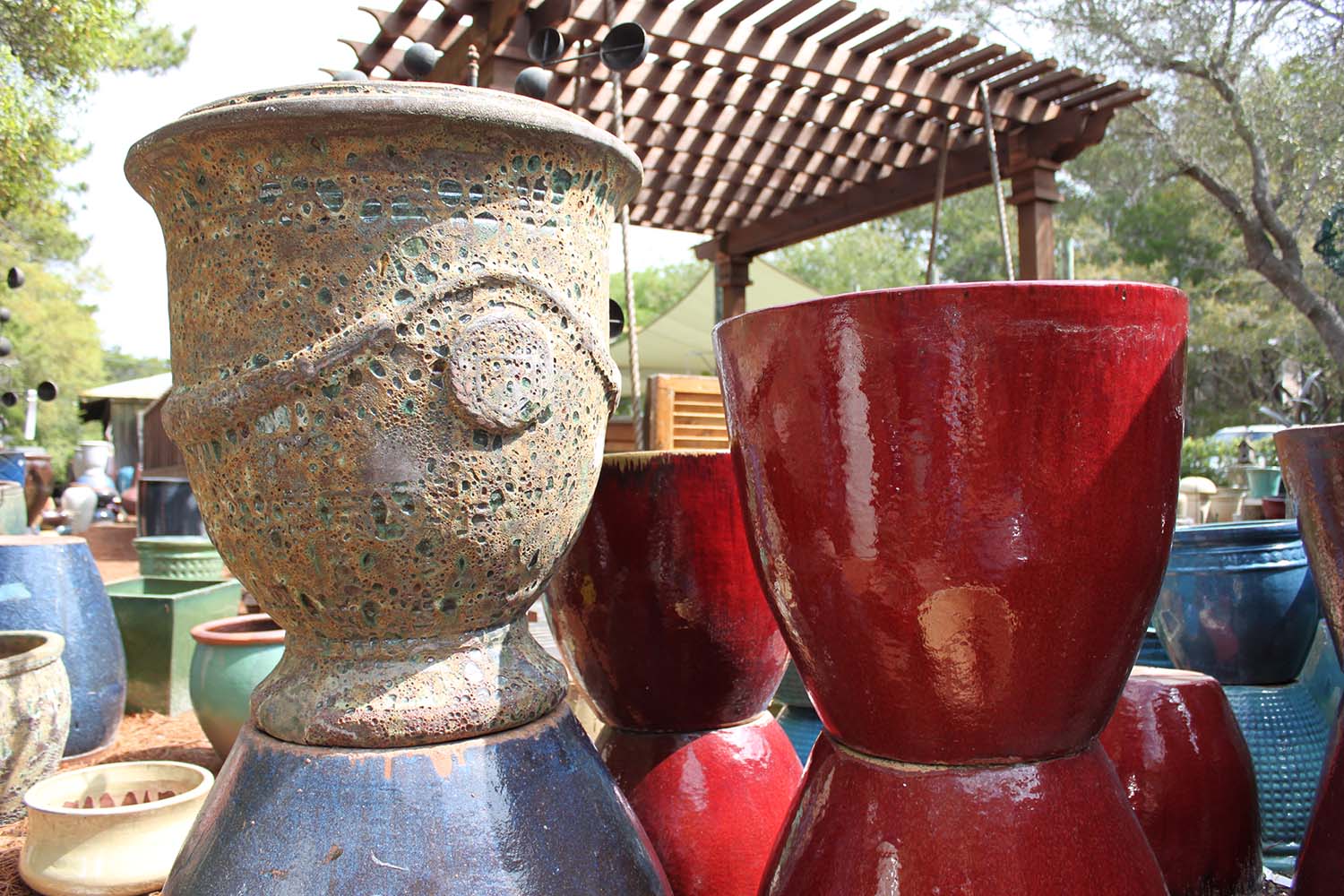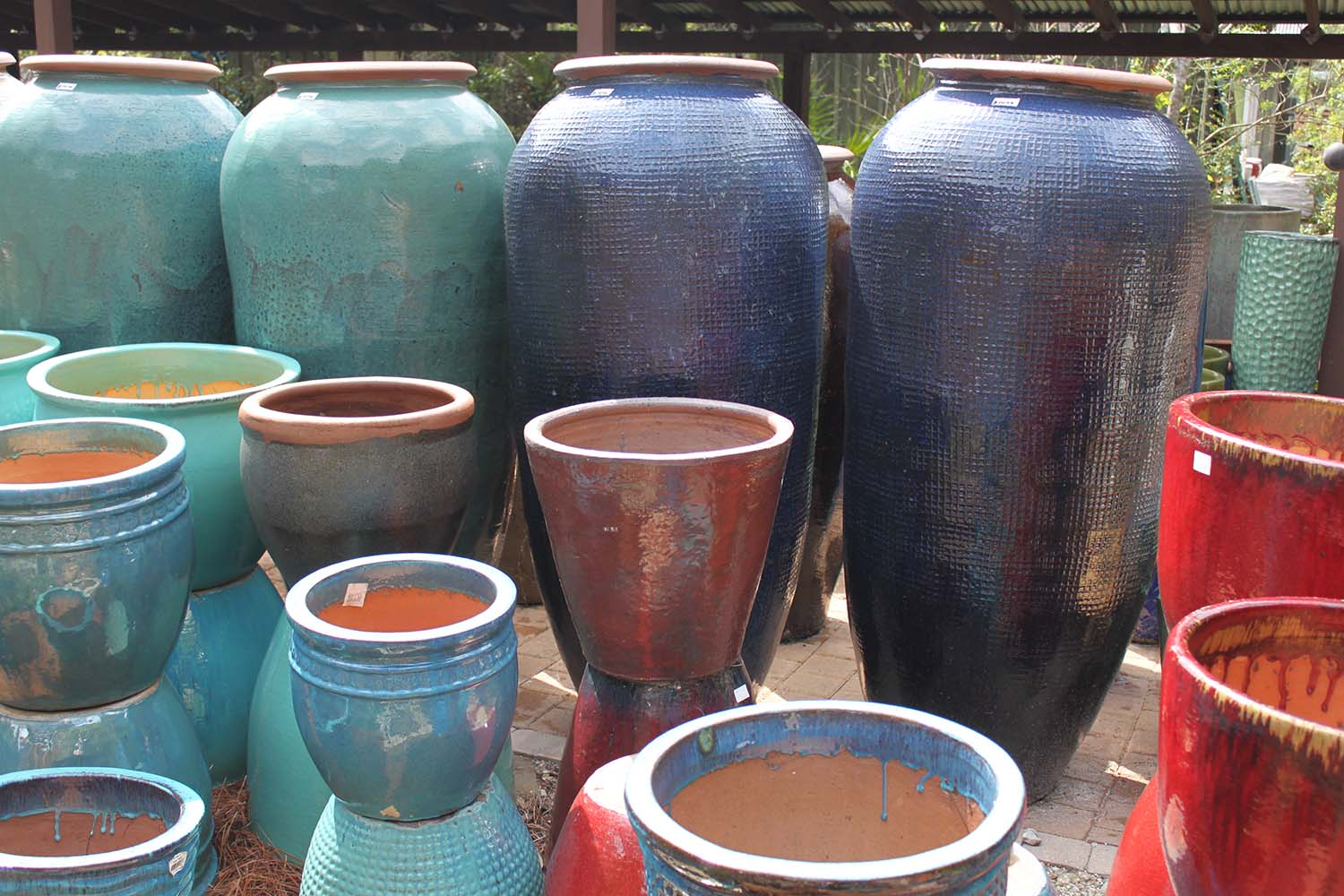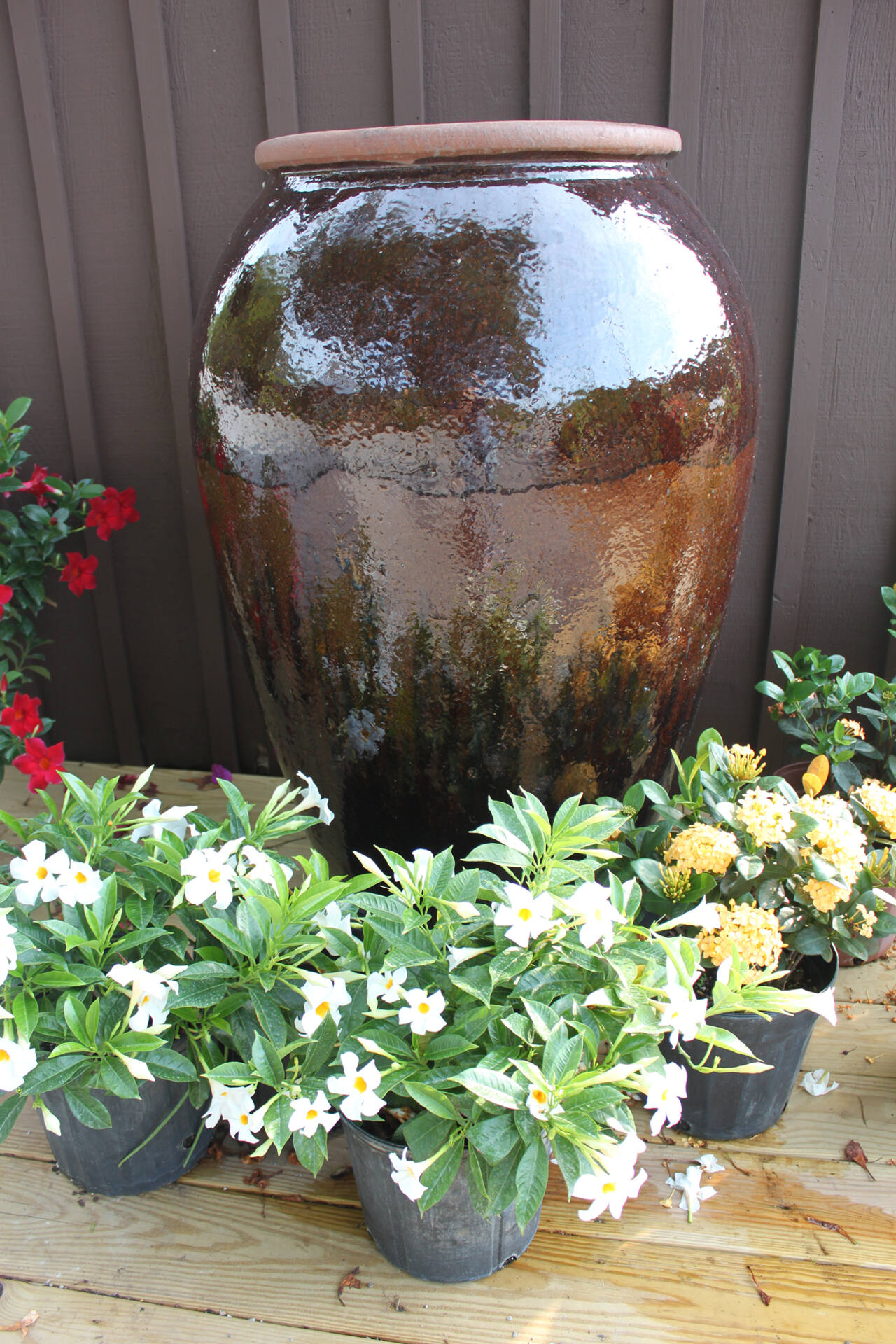 We have a selection of teak wood furniture and more. We have handmade birdhouses, outdoor art, ironware, wind chimes and large selection of local driftwood. We also have wall plaques and statues.
FURNITURE
Teak wood tables, couches, chairs, swings and more. We also have concrete and iron furniture.
The word Blessings means something different to each person, whether it be thankfulness, inspiration, thoughtfulness, praise, even miracles!
At Clay, we look for special blessings and bring them to you in the form of original artwork, books, locally made garden pottery, barbed wire crosses, Saints, and jewelry. We try not to take things too seriously as well. You will find humor in some of our quotes that adorn our walls, in cocktail napkins, and everyday cards.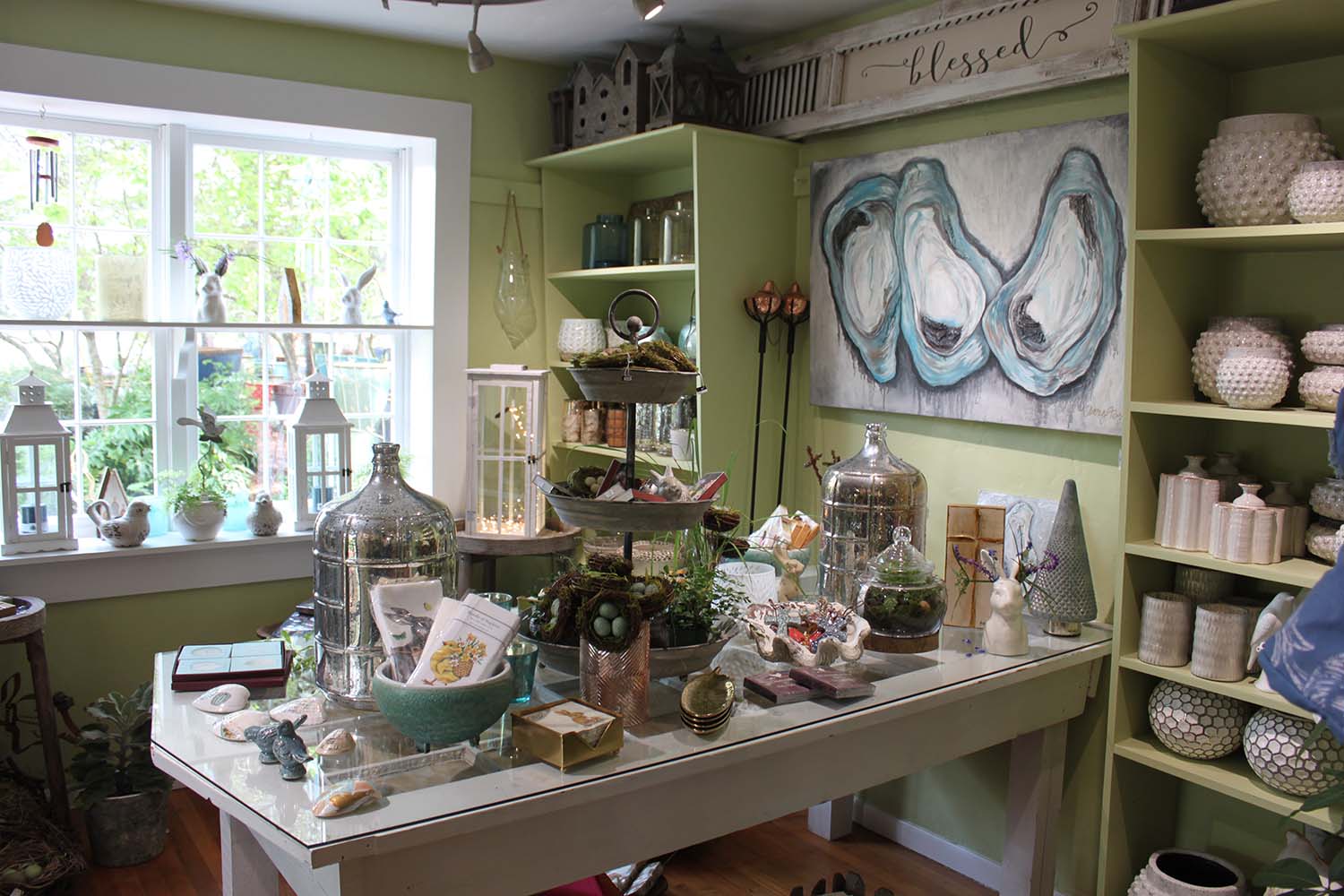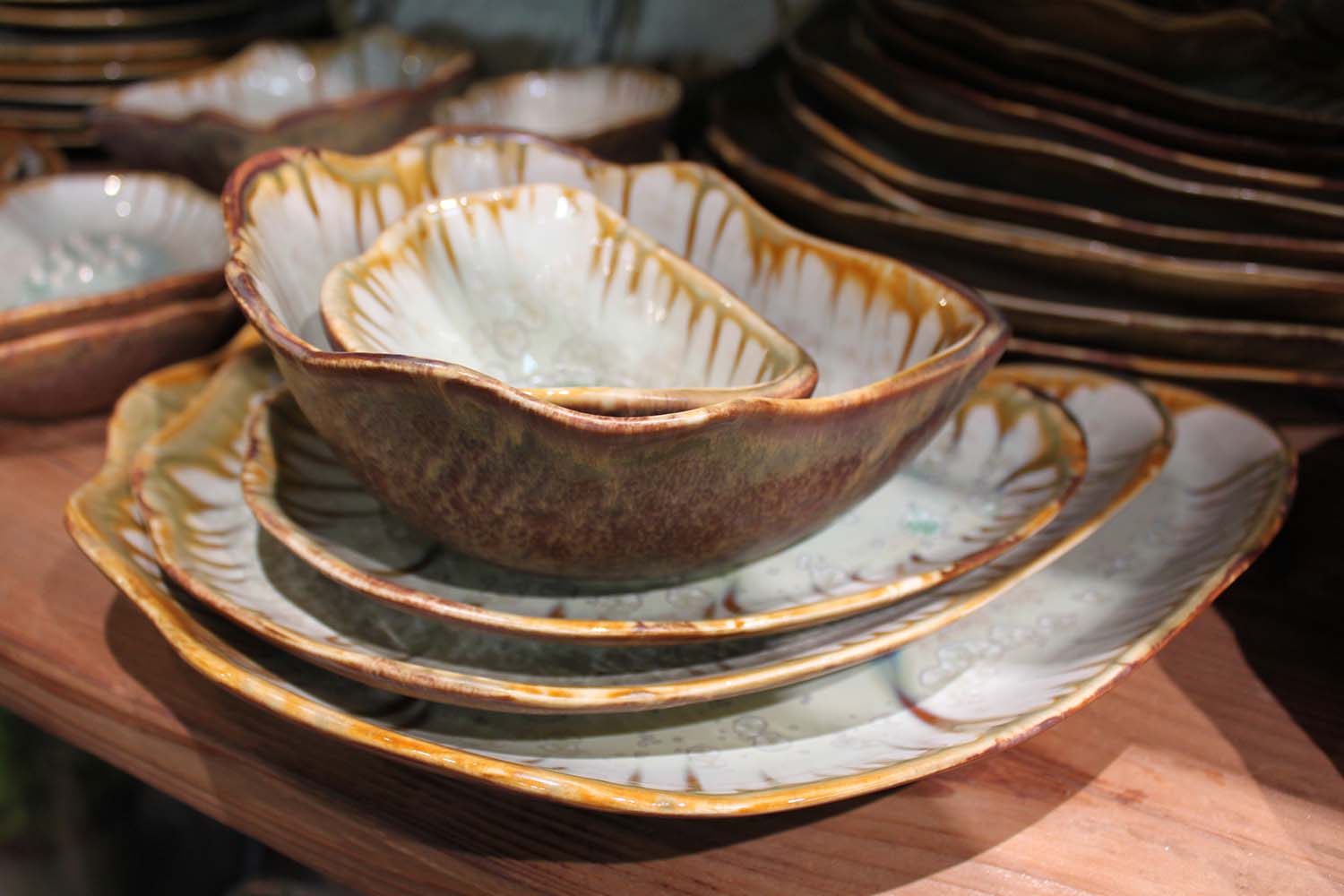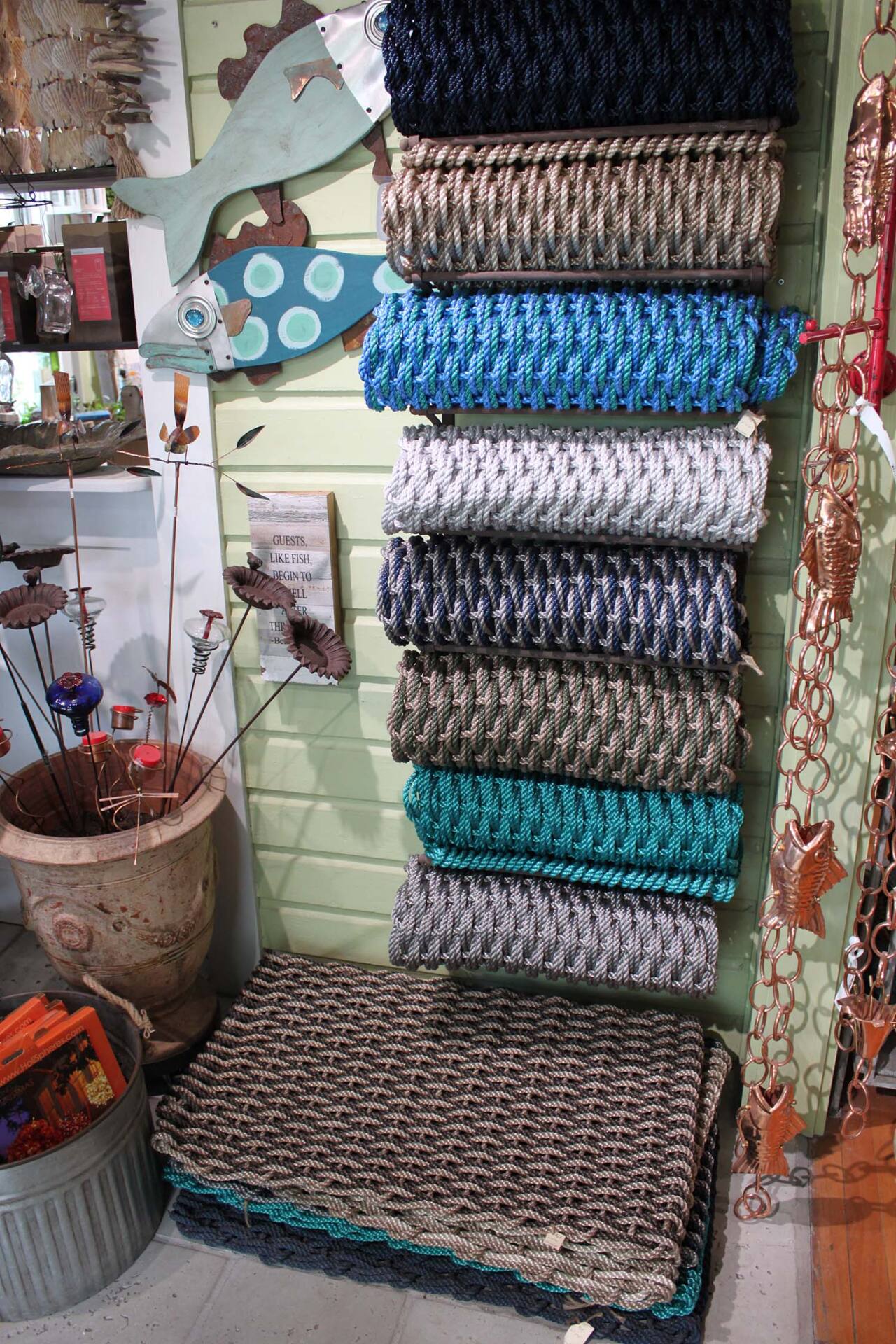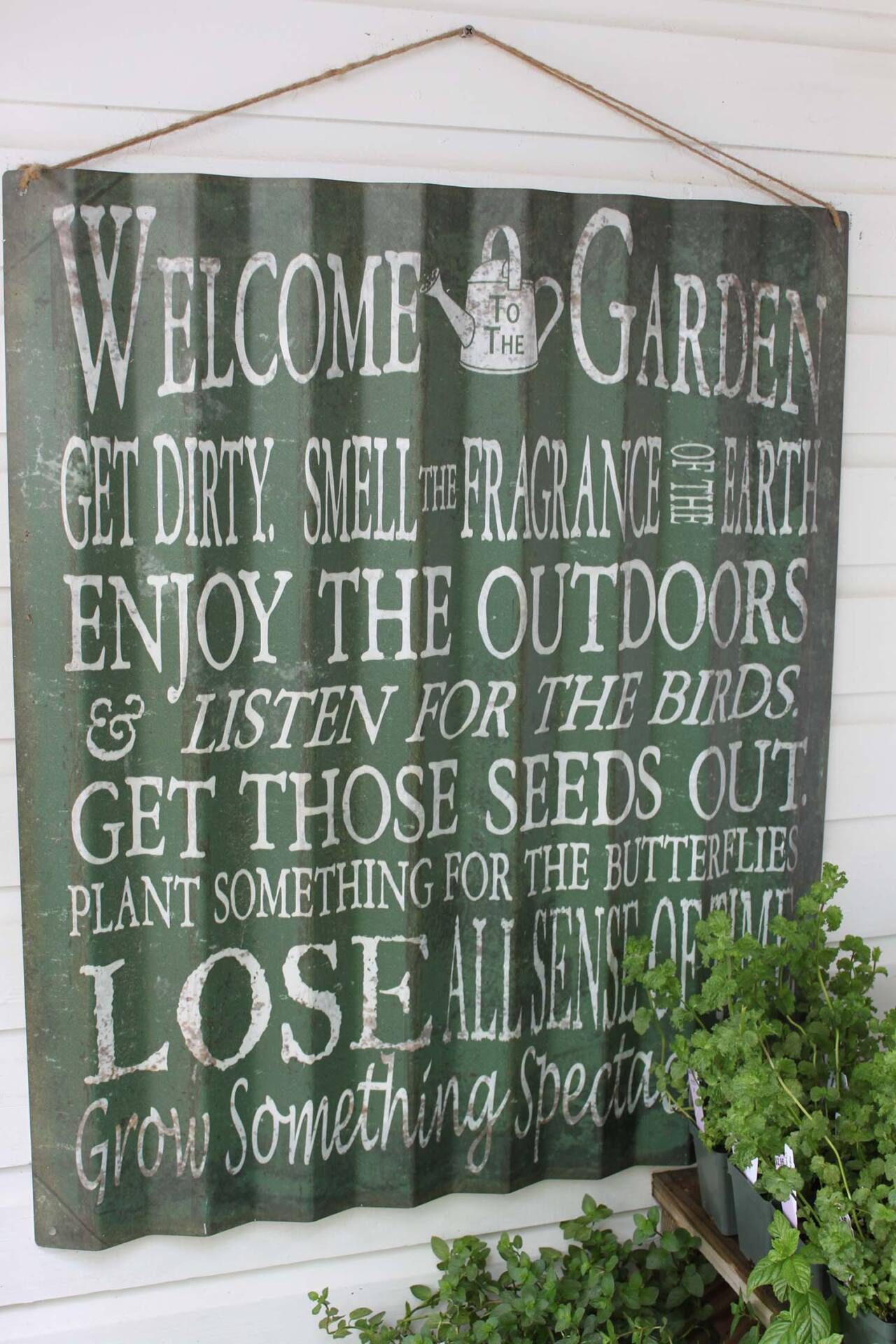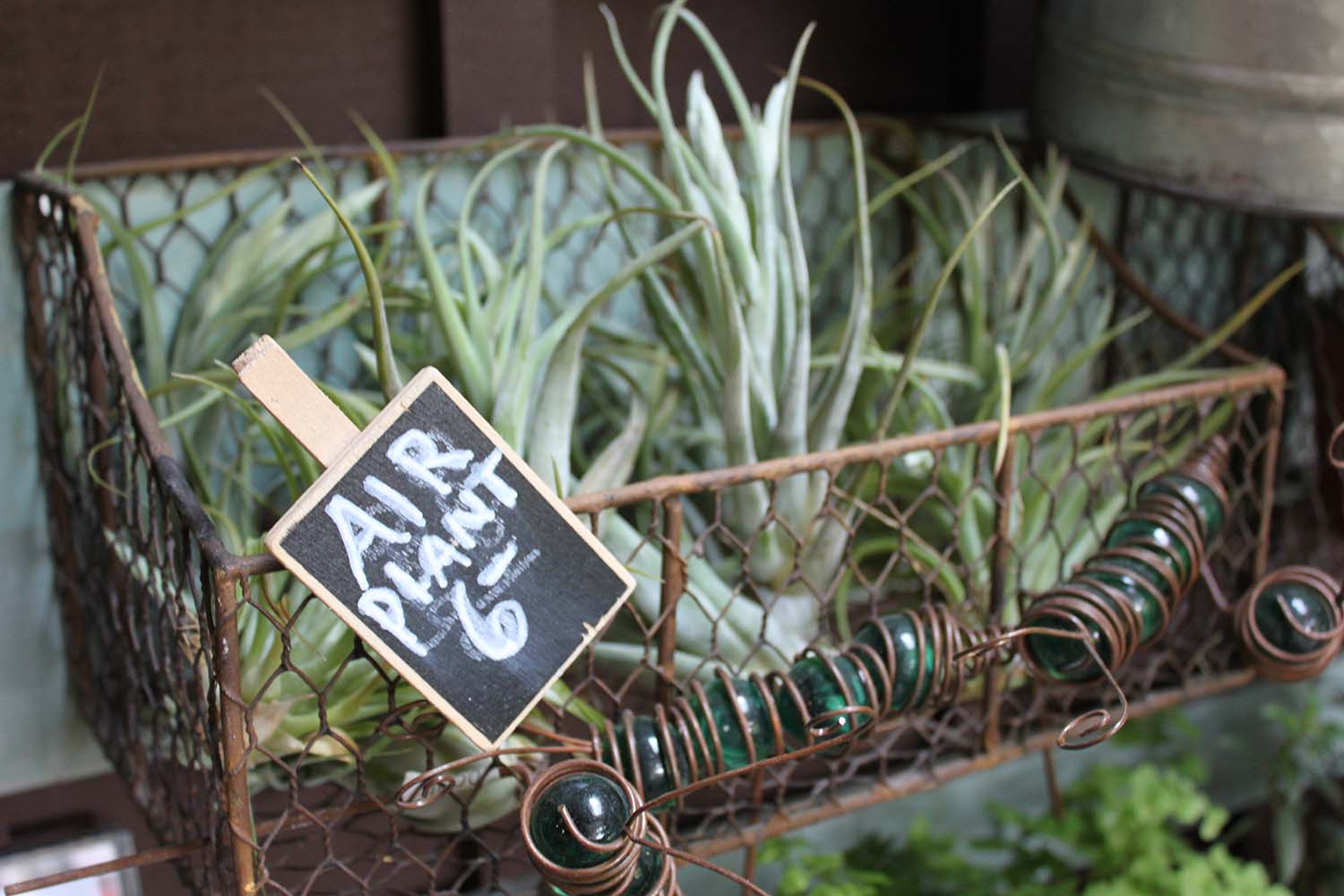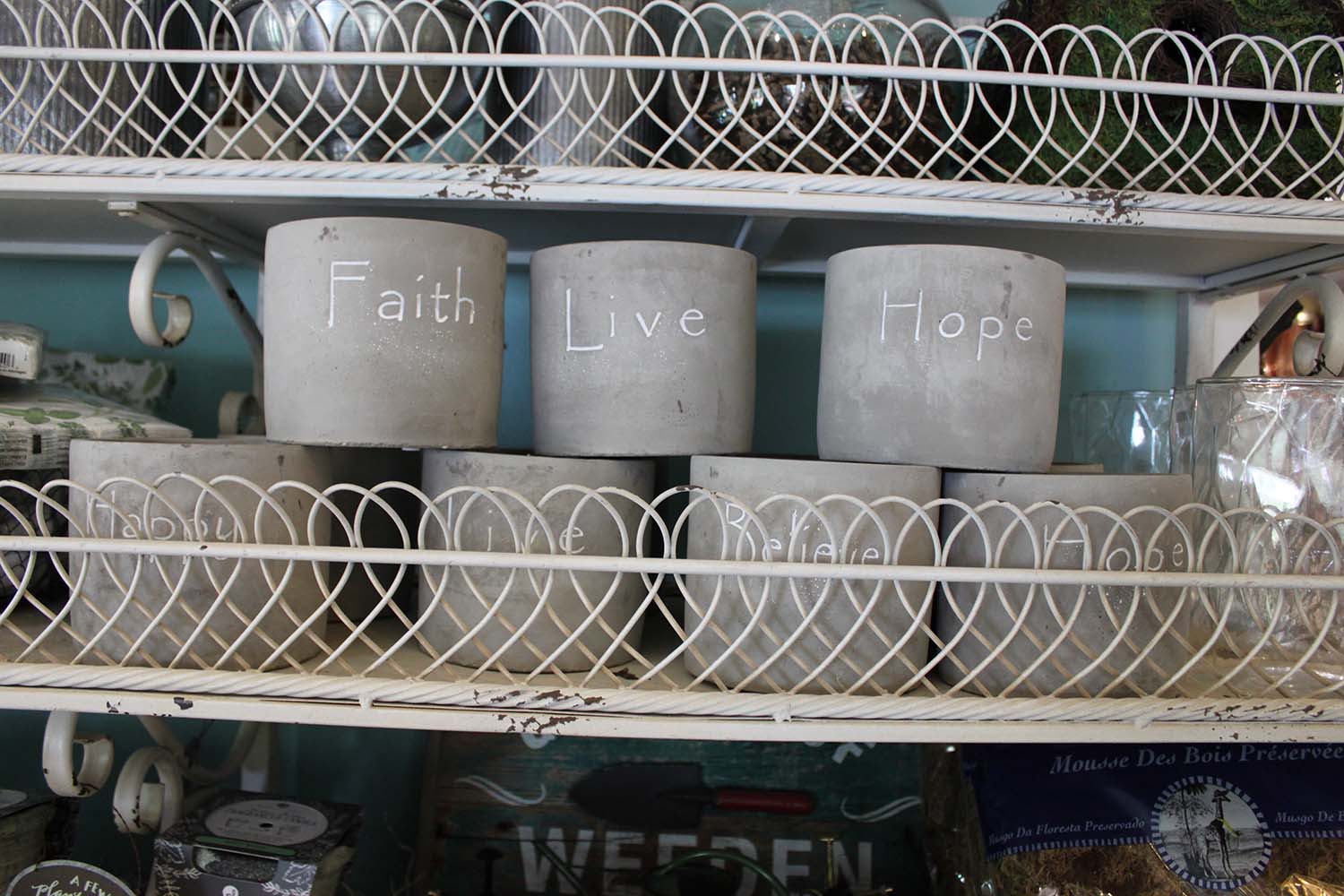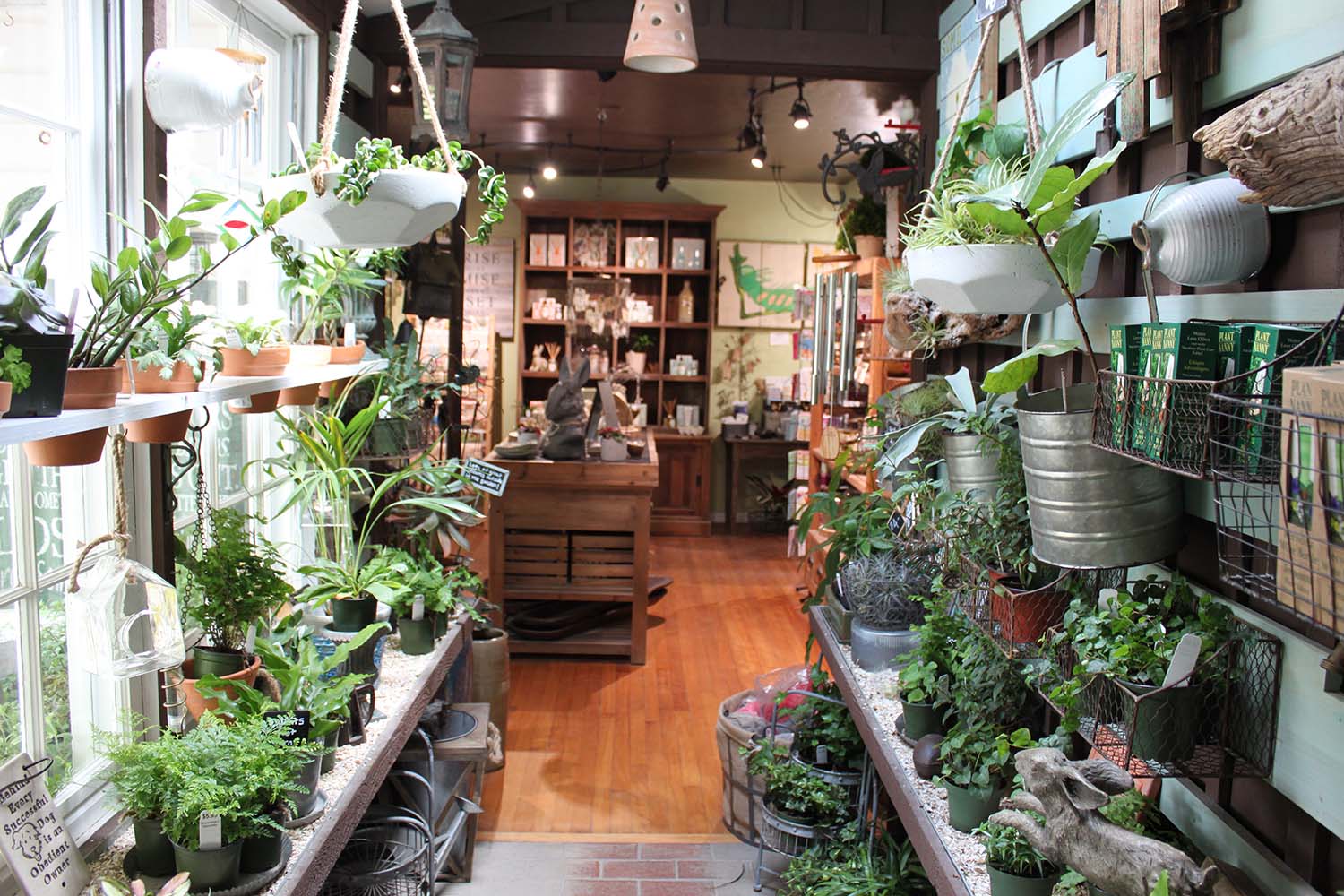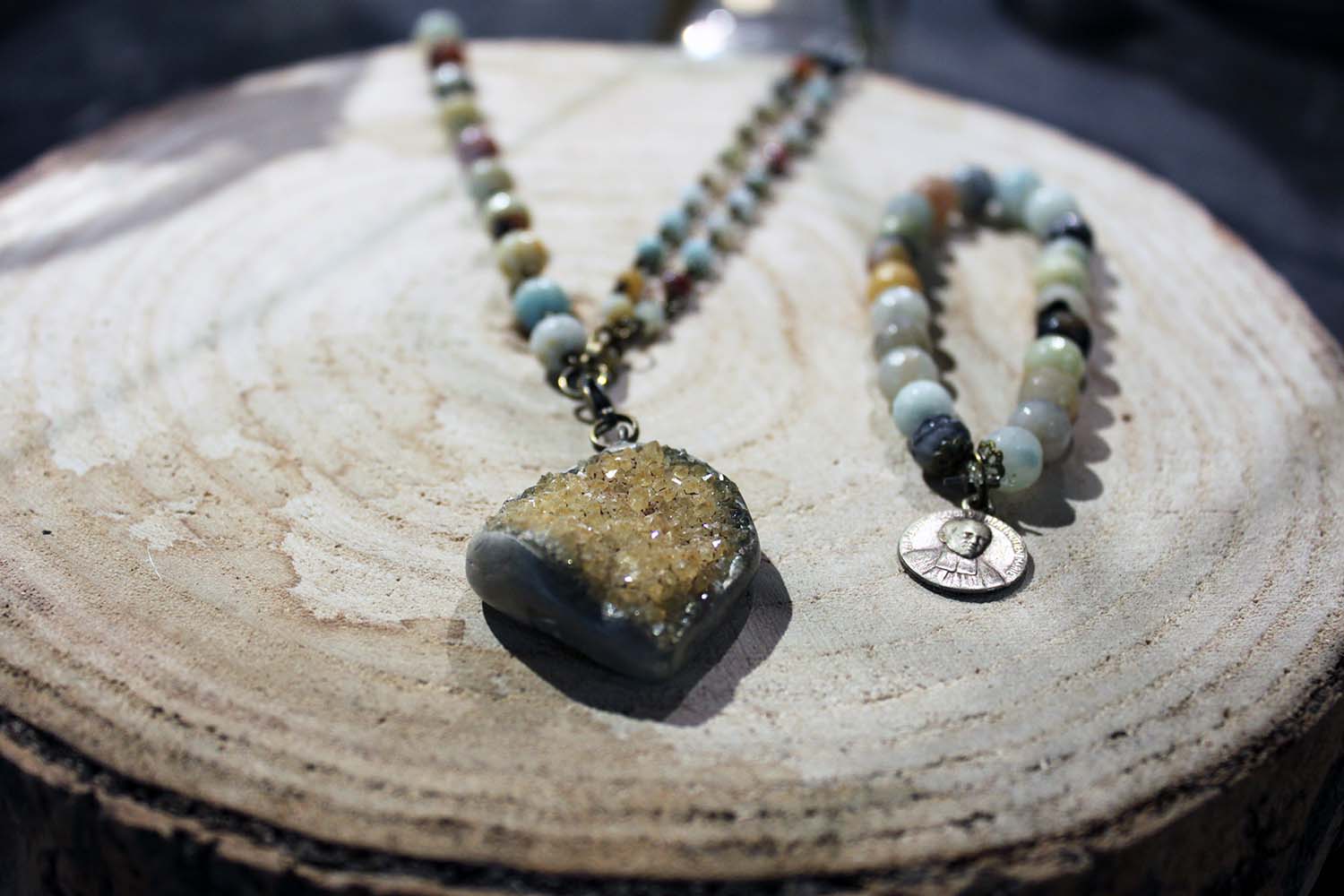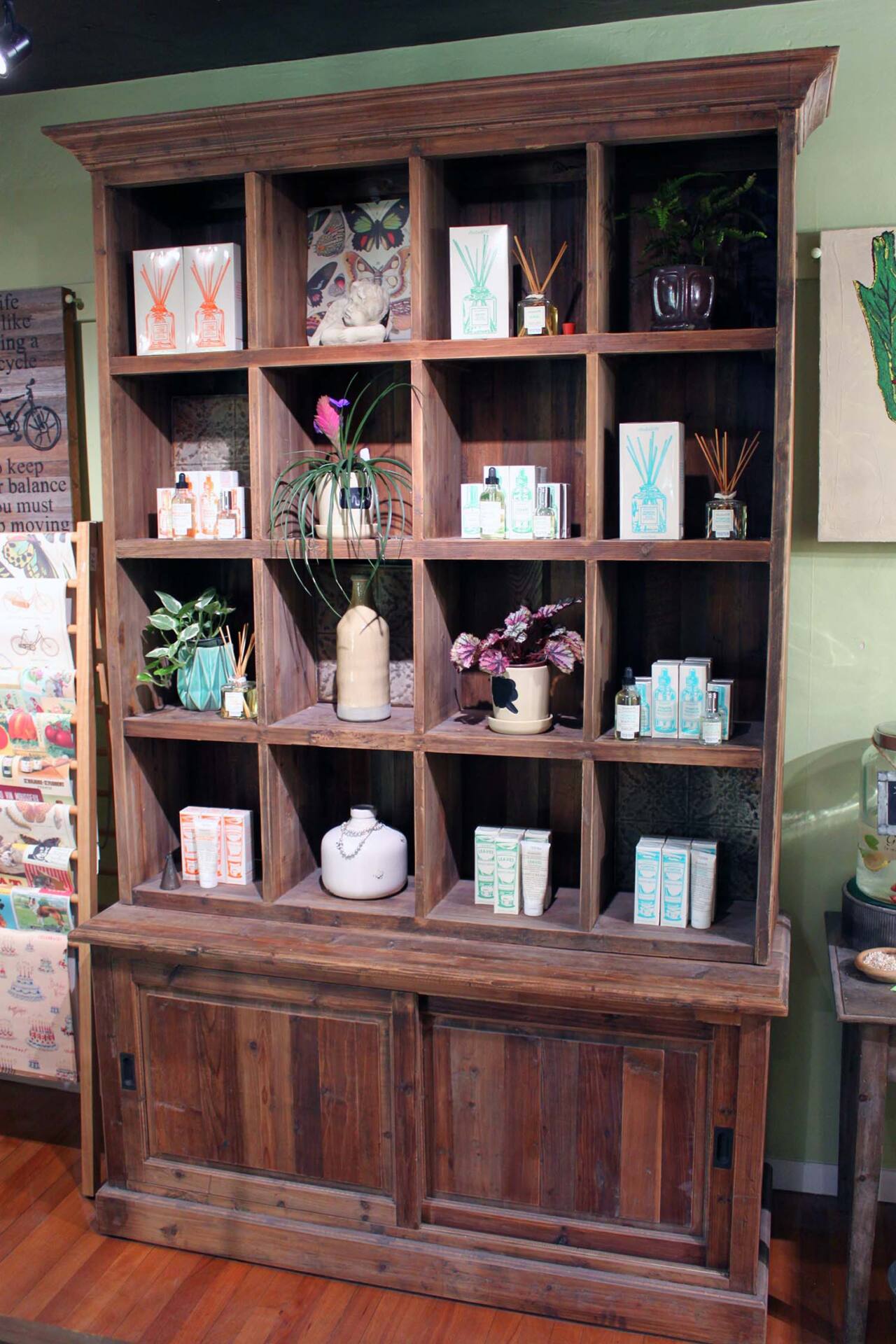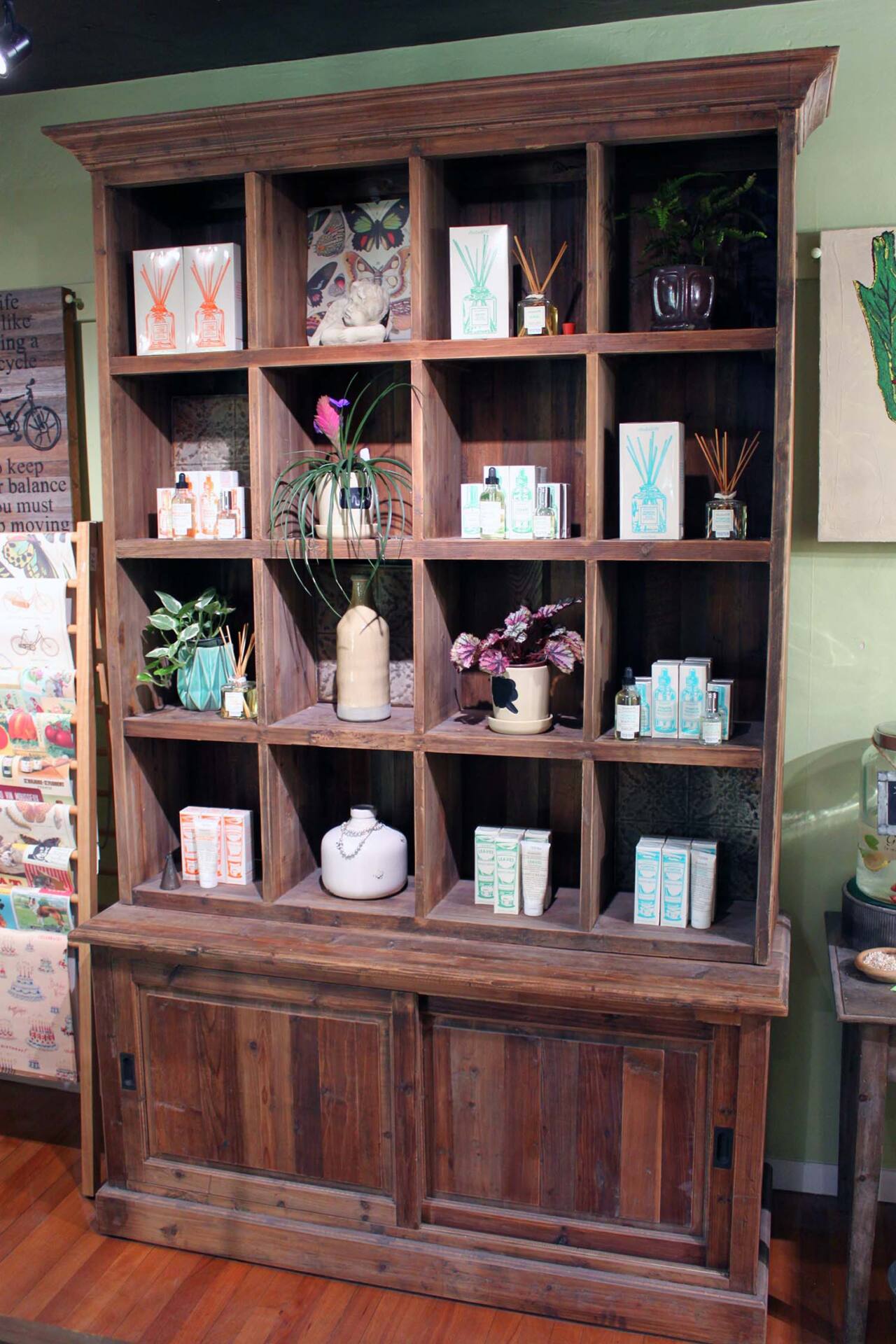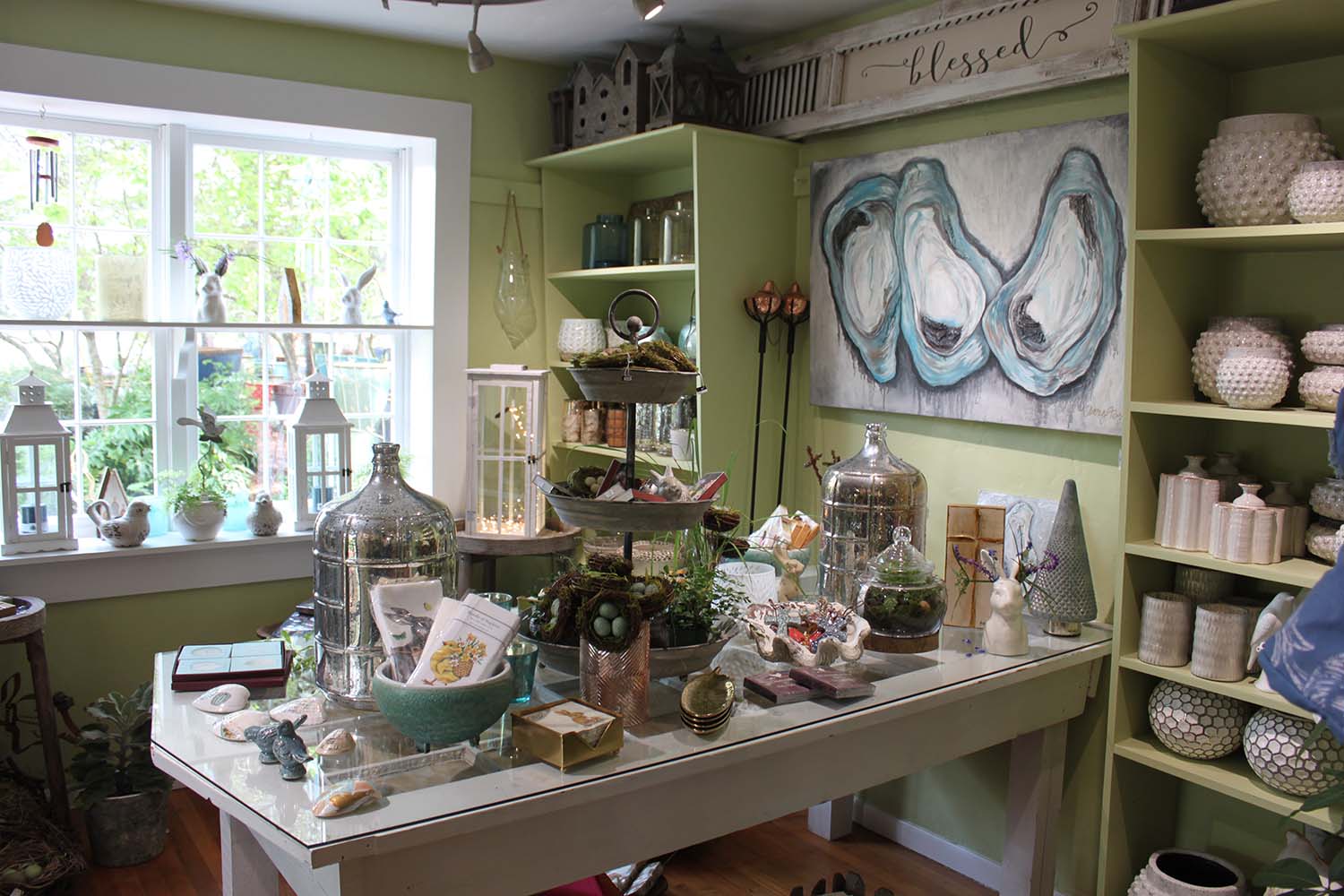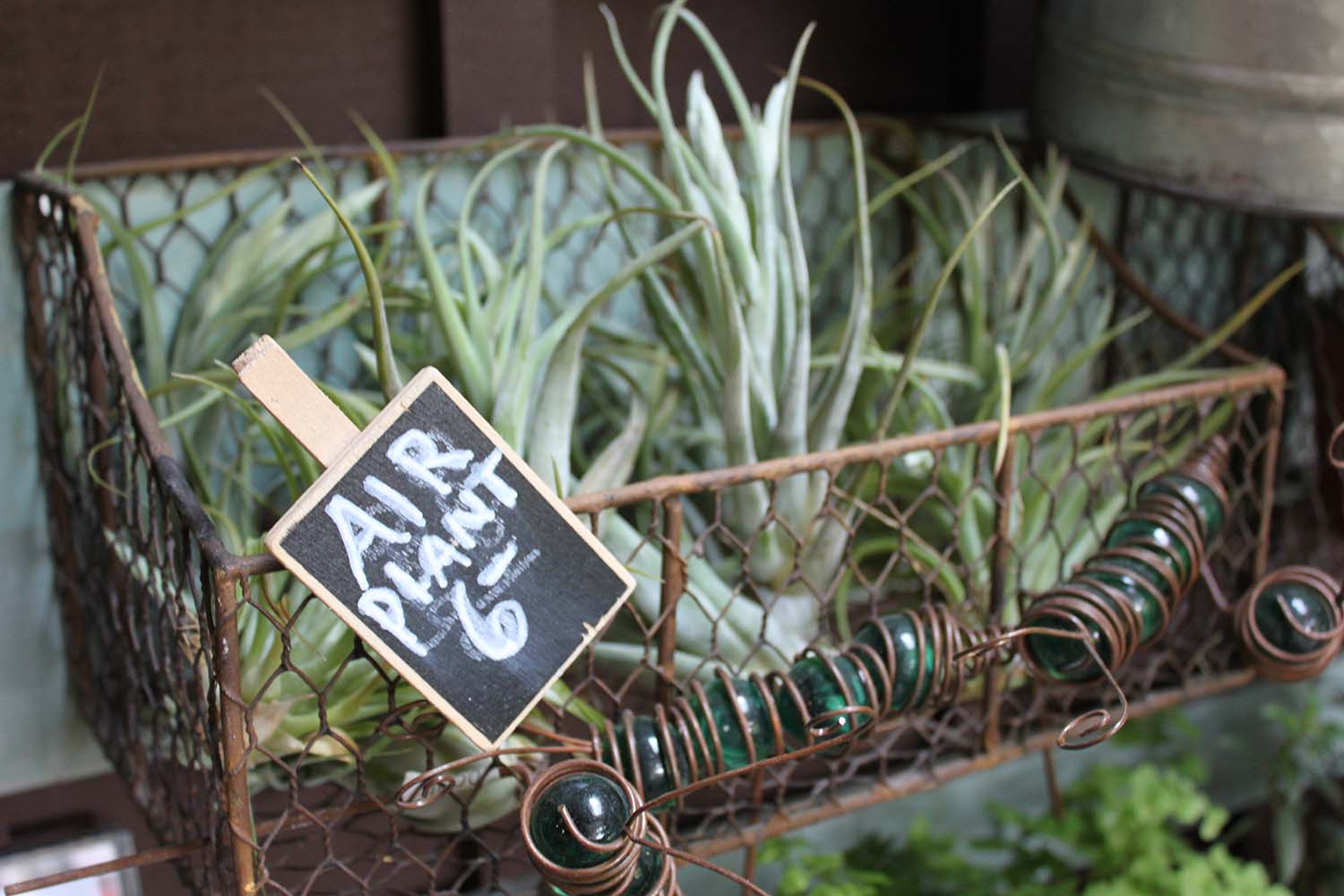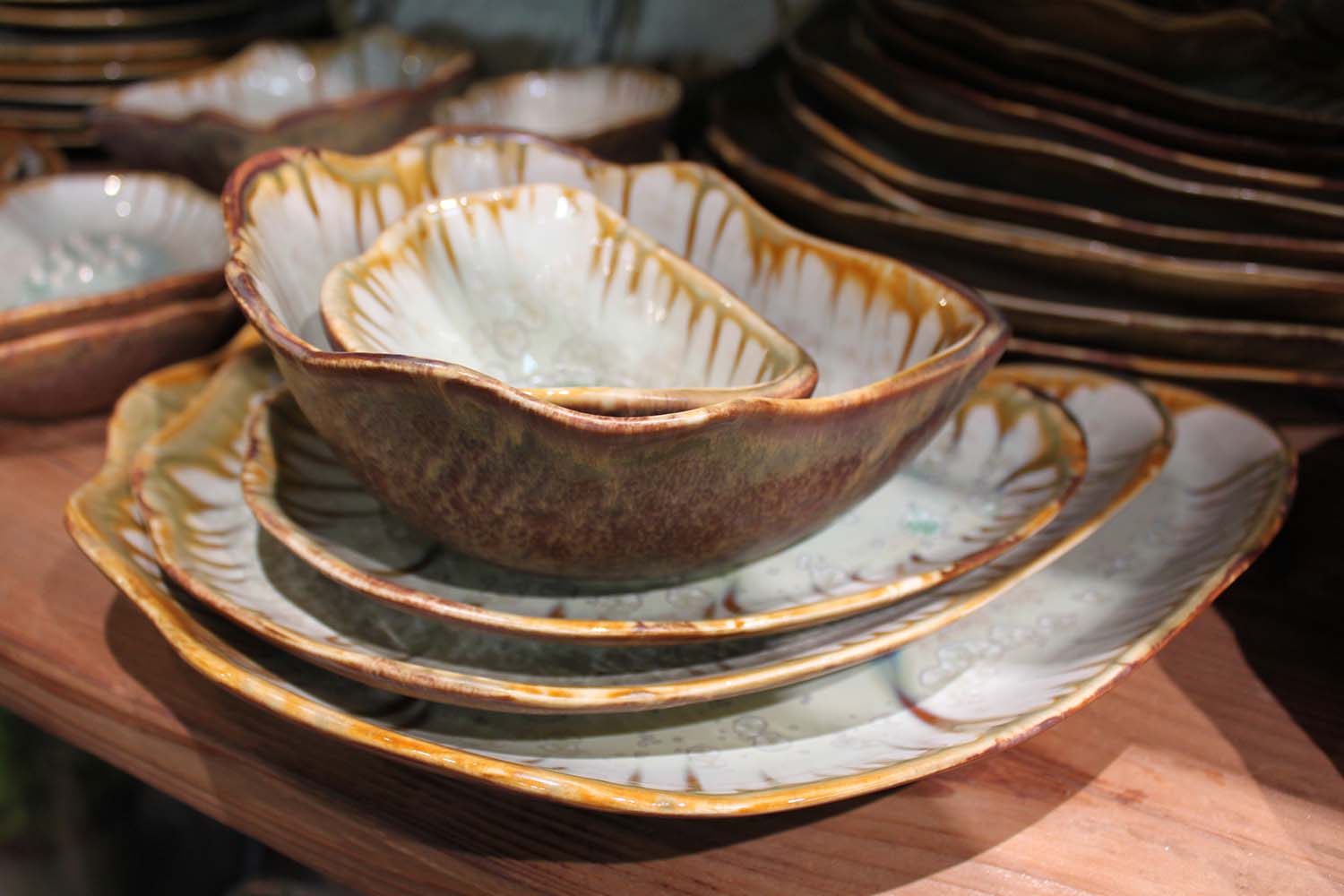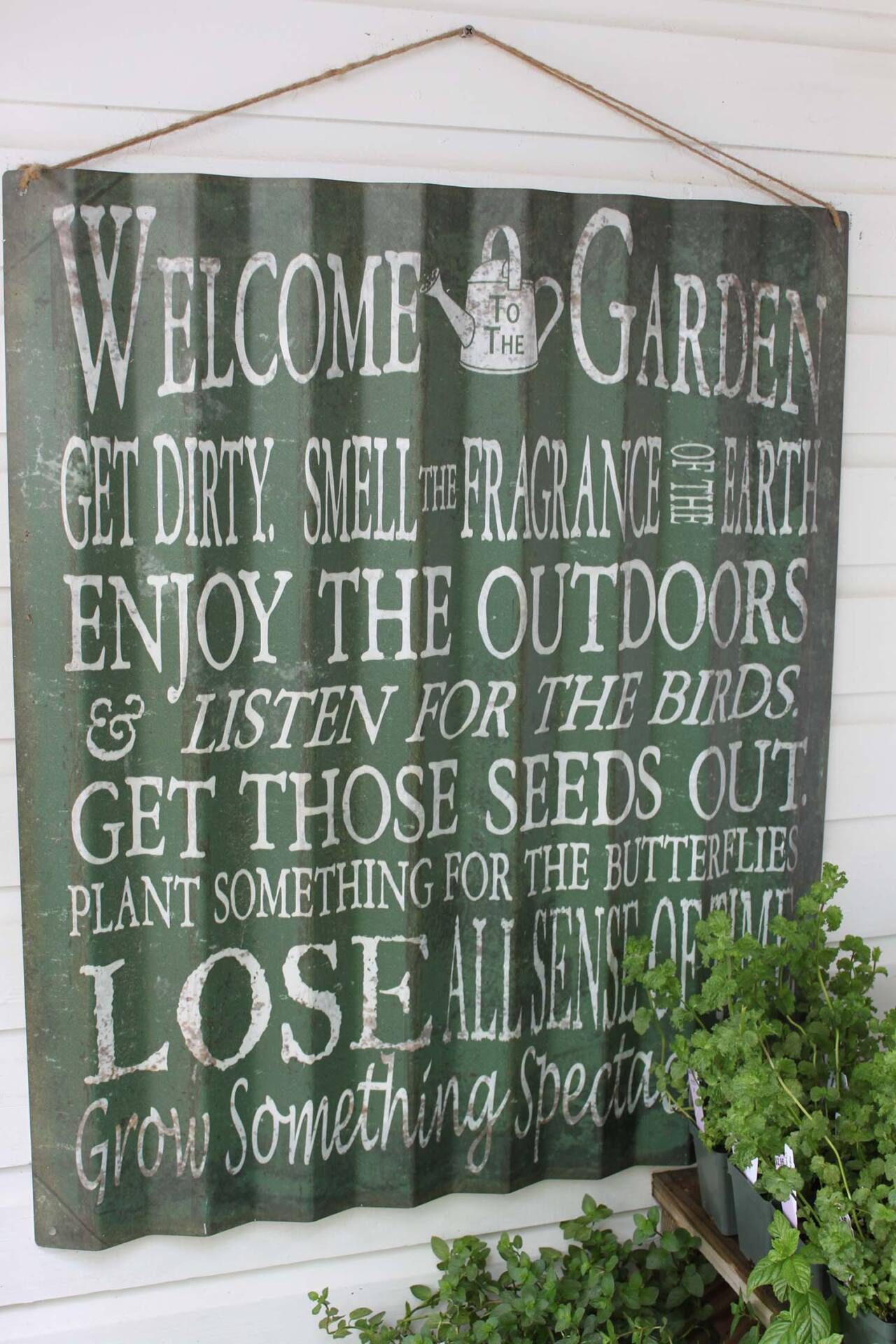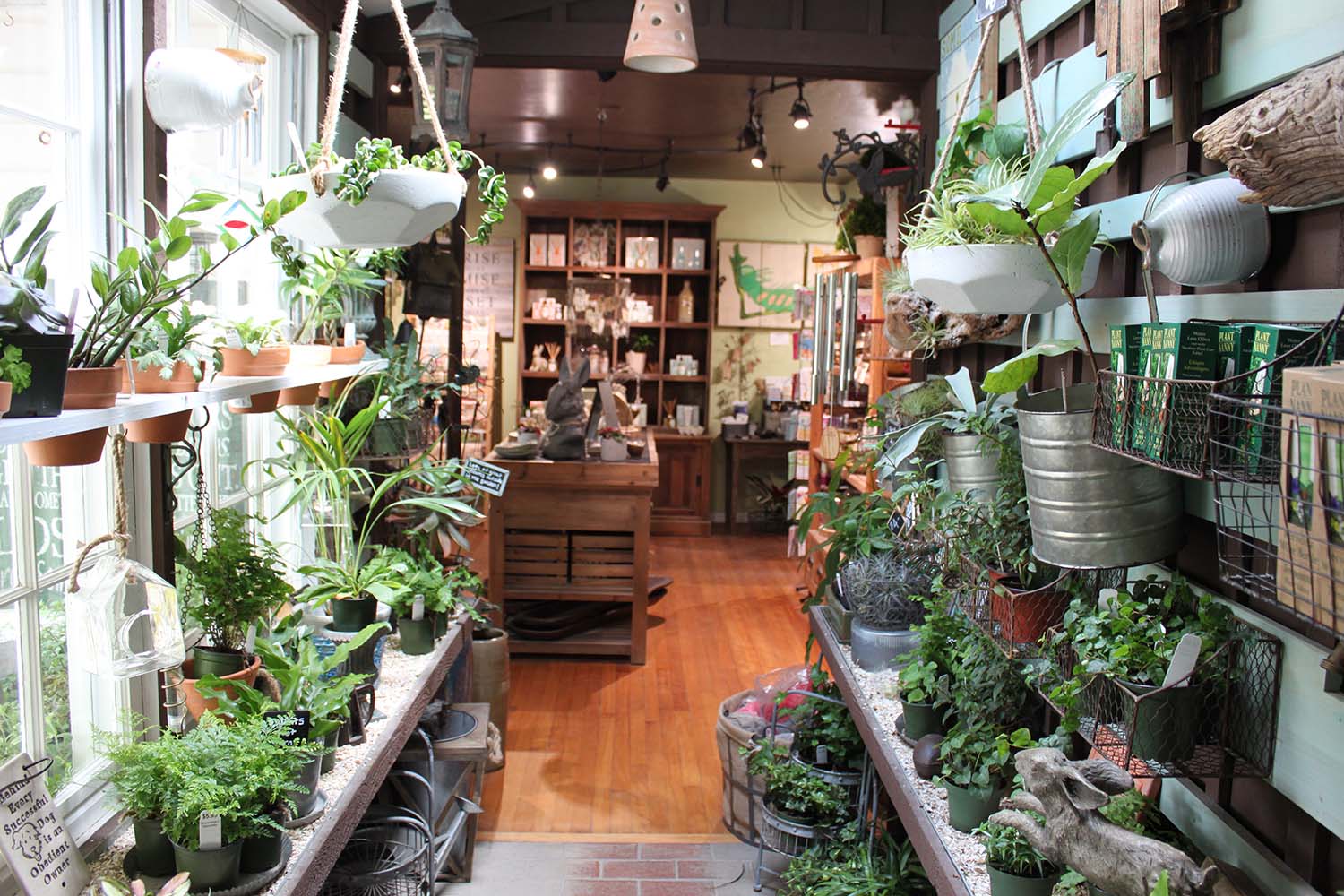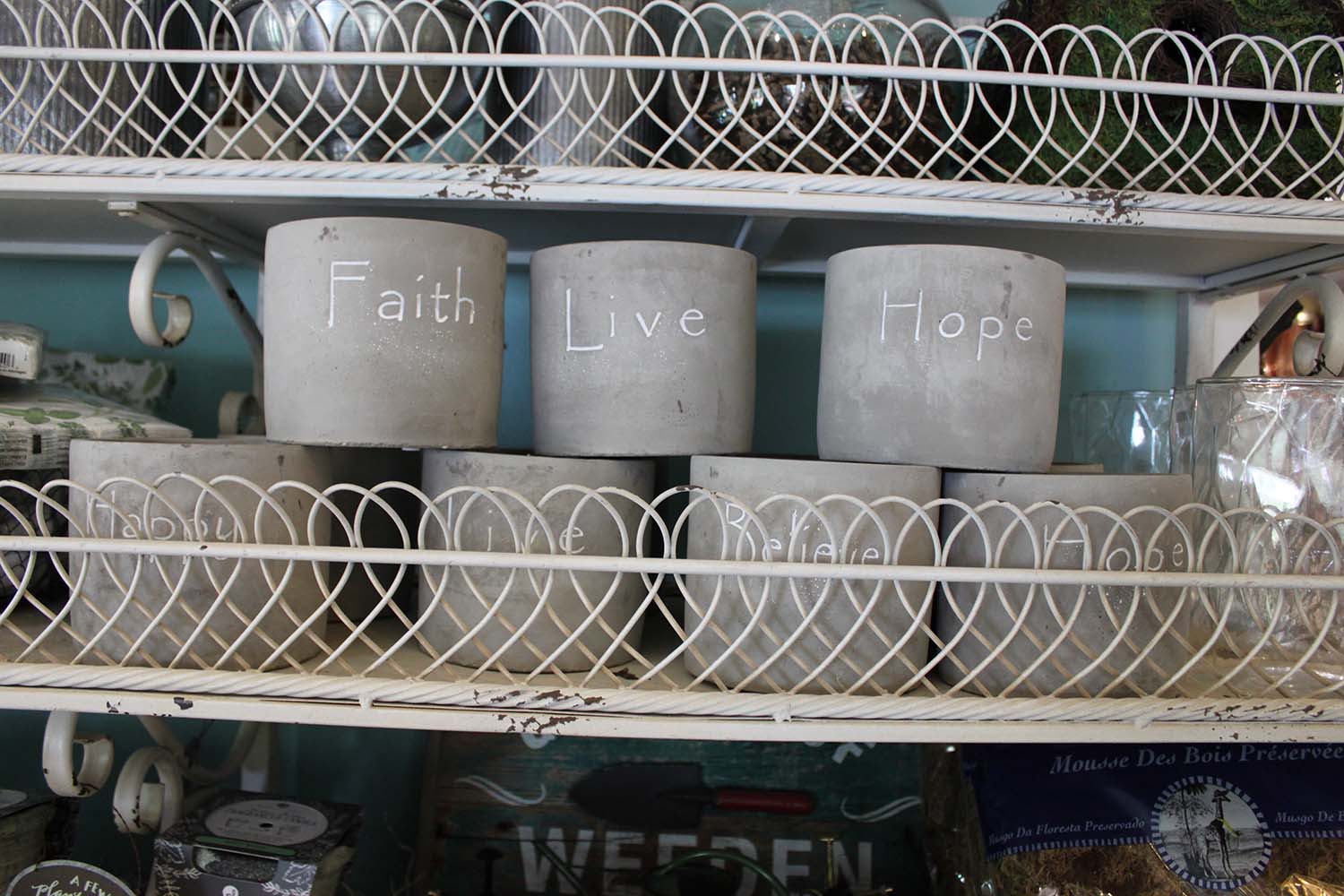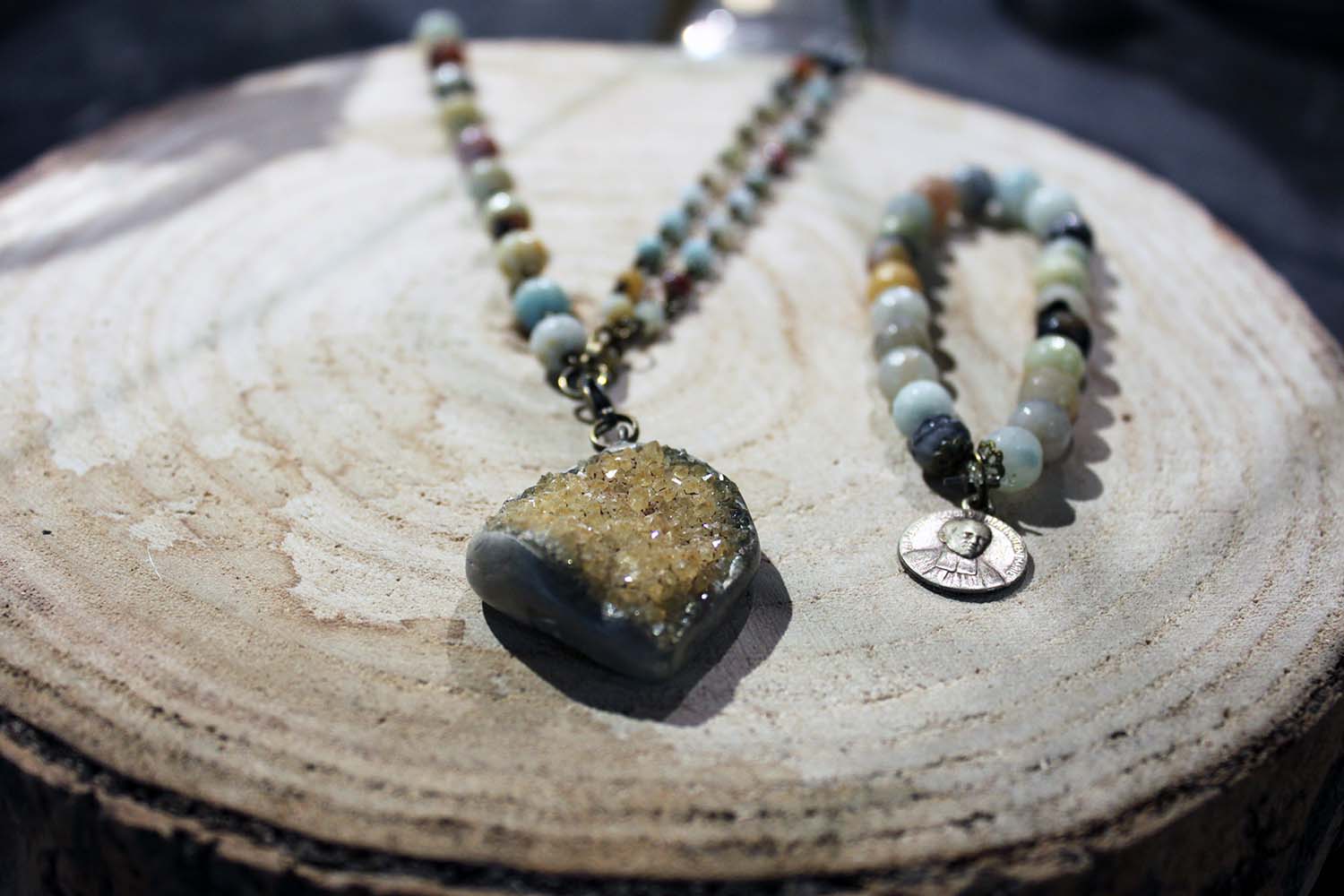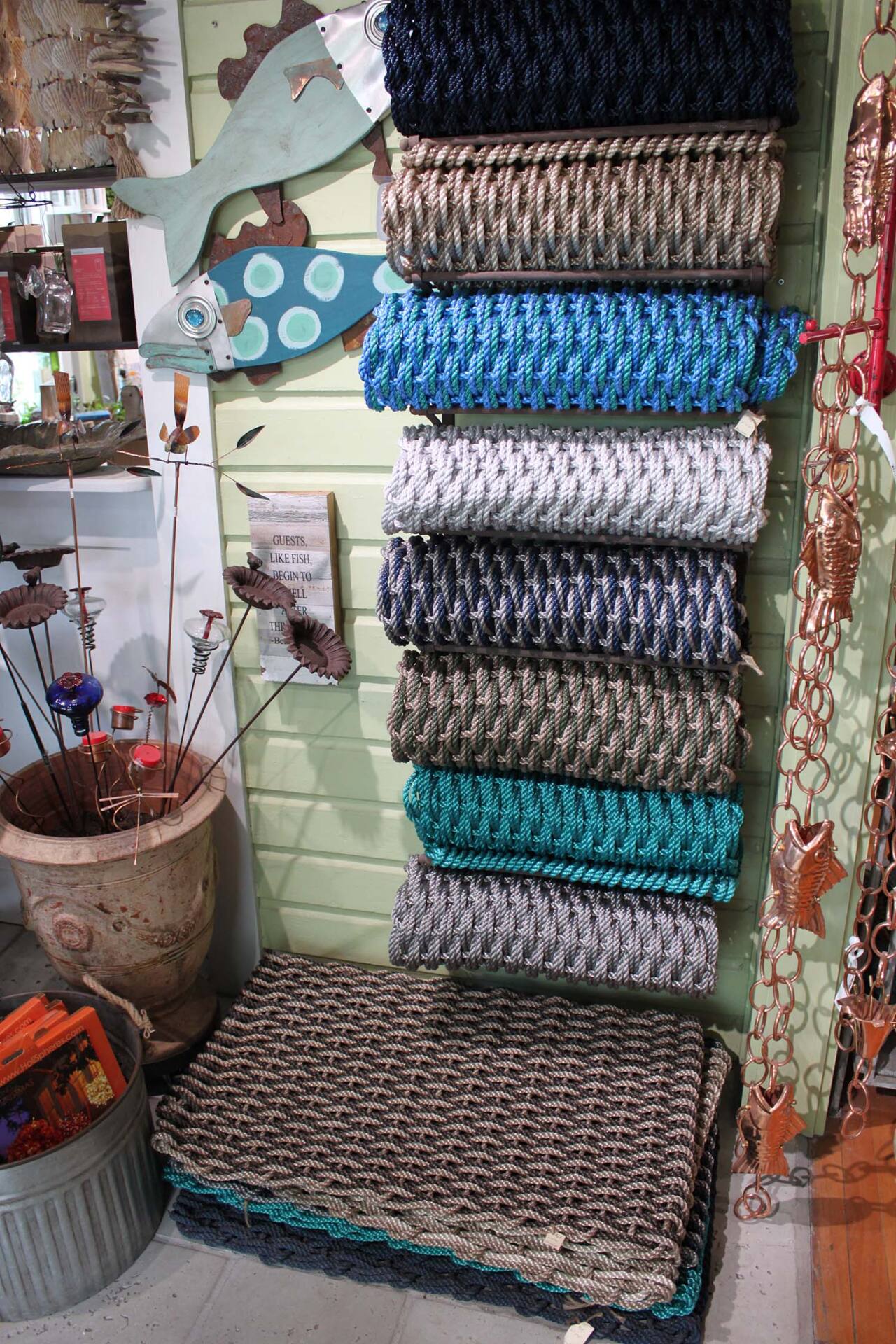 We are 2 miles east of Seaside on the south side of Scenic 30A.
Address
4808 East Scenic Hwy 30A
Seagrove Beach, FL
32459 (google map)
phone: 850.231.2150
hours:9-5 Monday thru Saturday | Sun. 12-5
Please give us a call or email us by the form below.